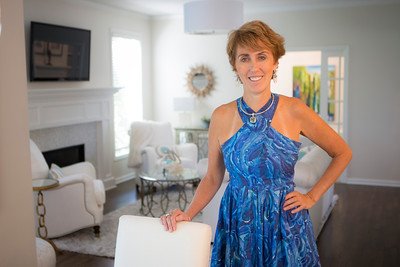 Best known for hosting the nationally acclaimed luxury design show, Living Large, Karen Mills has a passion for helping people live better whether its creating an extraordinary living experience that can engage the senses and nurture the soul or giving back to her community.
Featured by over 100 media outlets including USA Today, ABC National News, Elle Decor, and The Washington Post, Karen Mills attributes her firm's success of over 1200 projects to building long term relationships with clients while helping them translate their personal style into a signature look.
Besides hosting Living Large, the first design and lifestyle radio program in the U.S., Mills pens an award winning blog with subscribers in over 130 countries, writes for an international design publication, and has acted as a spokesperson for national brands including Kohler, Sherwin Williams, G.E., and Ferguson.
"Feel so fortunate to have spent my childhood surrounded by art, literature, music, and textiles because that experience along with my background in television and travel experiences have formed the basis for the interiors I design now: timeless interiors full of life, light, beauty, and warmth that engage the senses and inspire the heart." asserted Karen Mills.
Mills graduated from the University of Kansas where she studied Interior Design and Television.  Besides designing and giving back, Mills enjoys spending time with her four grown children, friends, travel, art, music, and being outdoors.
 AWARDS/ACCOLADES
1. Selected as host of Living Large, the long running interior design show featuring original content from celebrity guests such as Kathy Ireland, Jane Seymour, and HGTV hosts  broadcast on Entercom network.  Also known as first design and lifestyle show on radio.
2. Featured in national and local media 100+ times including USA Today, ABC National News, Elle Decor, and The Washington Post.
3. Spokesperson for national companies which have included iconic brands like Kohler, Sherwin Williams, GE, and Ferguson
4. International and local published writer including international publishers Curtco Media and Houzz.
5. Nationally known design expert
a. Featured regularly by international/national media as a design expert or resource which has included iconic brands such as Bob Vila and Wall Street Journal.
b, Asked to design a bathroom for Kohler headquarters along with other celebrity designers
c. Named Top 100 Interior Design Blogs/Websites 2015
d. Voted Kansas City's top individual designer in 2013.
e. Selected to be on international 1Q9A design panel of 9 designers in 2011
f.  Design chair for Symphony Designers' Show House that won 2010 National Award of Excellence from American League of Symphonies for first time in 41 years.
g. Designed the first museum deaf living environment in the U.S. in 2008.
h. Asked to design a piano for Steinway & Sons piano company.
6. Former face of World Goin Green web TV network and host of Living Green with Karen Mills
7. Professional design/charity speaker
a. Eastern Accents event keynote speaker
b. Keynote speaker for various Home & Garden shows in Midwest
c. KCRAR (10k member) annual event keynote speaker
d. Speaking of Women's Health Convention
e.  Keynote for K.C. Royals Luther Dummy Taylor day at Kaufmann baseball stadium
f. Keynote for U.S. Department of Health's first KC Health & Fitness festival
g.  Emcee for numerous charity events including America's Walk for Diabetes, A Chance for Children (American Cancer Society), Boulevard of Dreams, Inspired Celebrations, and more.
8. State certified as a Staging for Resale instructor