The first day of spring has arrived in the United States and it's a joyous time for most of us in the colder climates because it marks the end of a season of cold, ice, and snow.
As I walked through my yard this last weekend I saw green buds appearing everywhere from bushes and trees to perennials.   So of course that motivated me to perform my semi-annual tradition of packing up heavy winter decor and ushering in spring with lighter decor.  If you would like to lighten your interior too, here are 5 tips for injecting spring into your home.
Add life with fresh flowers and seasonal plants like this photo by Jonathan Charles furniture above.  Lighter finishes also help enhance the spring feel of this room along with an infusion of sunlight.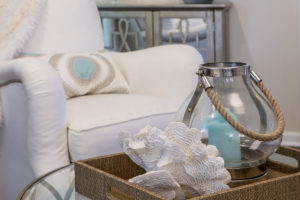 2. Add fresh pops of color in pillows and decor like the room above.  The shell and lantern beach inspired decor also add to the warm season feel.
3. Replace dark heavy items like rugs with lighter options  like shown above or go with a natural rug like a sisal.  If that's not possible, opt for removing the rug altogether.
Light pillow covers in natural fabrics also add to the appeal along with fresh flowers and light upholstery.  If you don't have light upholstery, consider adding a slipcover for spring/summer weather like the dining chairs we had slip covered below.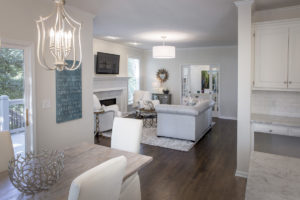 4. Lighten up in the bedroom by replacing heavy dark bedding with light natural fabrics in cotton and consider using sheer drapery panels instead of heavy drapes.
5. Spring Clean  Remove all the extra items that have accumulated over the winter months and do some spring cleaning so your room feels fresh and fabulous.  Now you're ready for spring!
For more great photos and tips, sign up for our weekly interior design blog here!
Plus become a fan of Kansas City's interior designer and former host of Living Large, Karen Mills, on Facebook here!