Ideas for Bringing Your Kitchen up to Date Without Breaking the Bank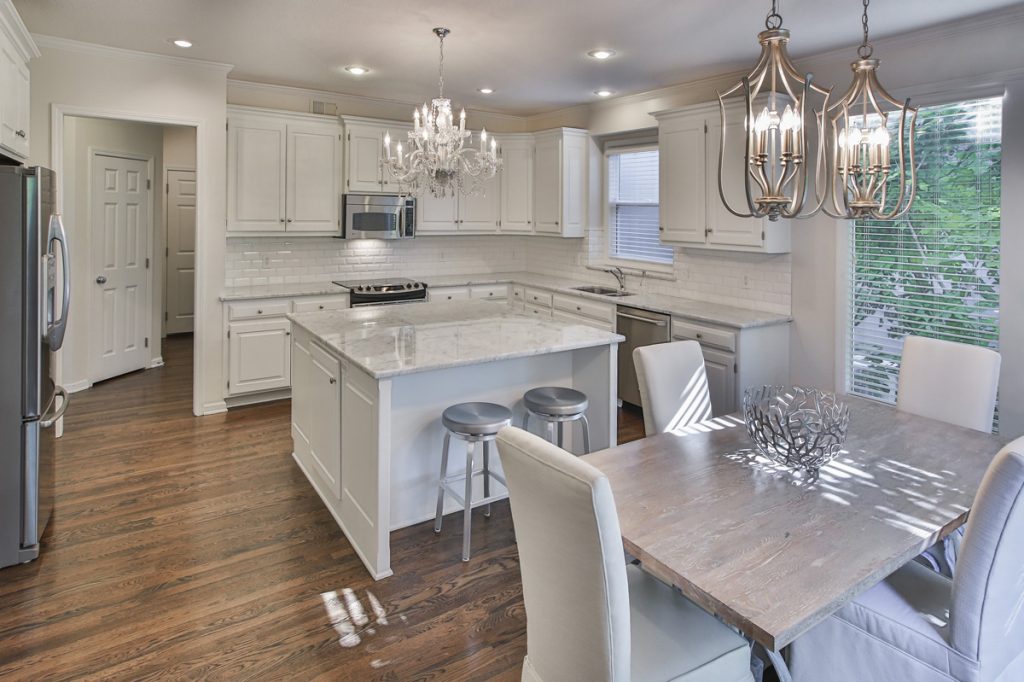 If a kitchen remodel isn't in your future because of either lack of budget or not recouping your investment in your current home, then why not consider what I like to call as an interior designer a KITCHEN REFRESH! Read on for my 5 tips for giving your kitchen a budget friendly makeover below.  
1.Paint both your kitchen cabinets and walls to give your entire space a fresh new look. In this kitchen refresh we repainted darker cabinetry and walls a much lighter version of white to lighten up the space and visually expand it, while also swapping out dark counter tops for light ones.
To save money and not waste perfectly good granite our client re purposed the darker counters to a new basement bar where they were a perfect fit! Then to bring in more light we installed an existing chandelier the client wanted to incorporate and added new mini chandeliers over the eating area where we re purposed a tabletop made out of a door by gray washing it and having slip covers made to hide existing dark leather dining chairs.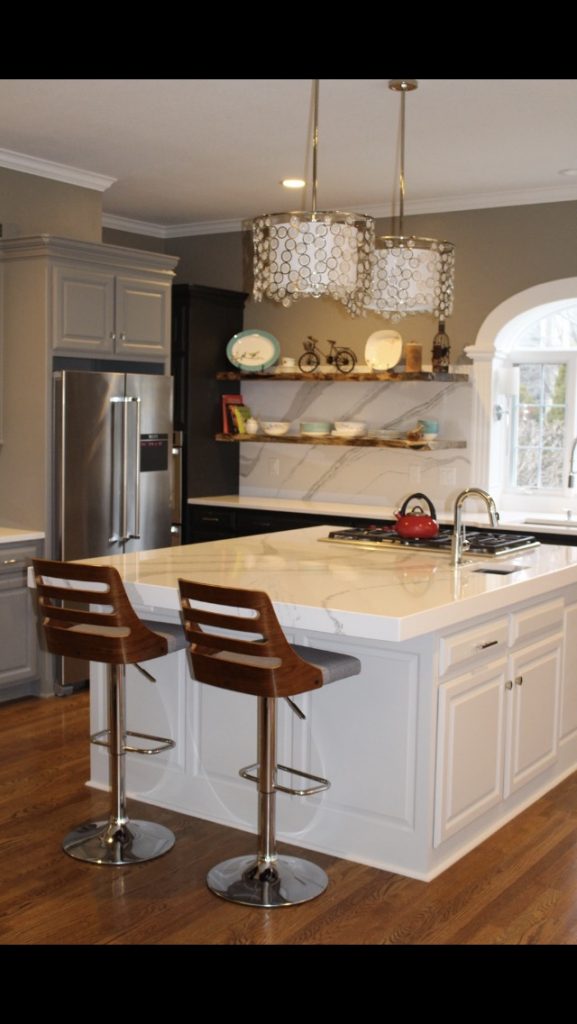 2.Replace back splash along with counter tops – After working on over 1200 interior design projects a huge problem we've noticed is that homeowners planning a budget kitchen remodel typically omit replacing their back splash. Unfortunately an old back splash screams dated so as an interior designer I recommend to our clients that they replace it at the the same time to create a wow factor when you walk into the room.
In this playful and creative kitchen makeover, we replaced the dark granite with white mitered quartz tops on the island and ran the quartz up the walls behind the cabinetry instead of traditional tile to add drama and interest. We painted the cabinets three different shades of gray, added new mini chandeliers, and replaced a few wall cabinets with live edge shelves to create a fun focal point.
3. Introduce new bar stools  In addition to the new live edge shelves the client in this kitchen purchased contemporary counter stools that really pop against the gray and white color scheme while adding a little warmth with the wood. New stools that contrast against your island or peninsula can completely have a huge impact on your kitchen without a big investment.
4. Replace dated chandeliers or pendant lights – By updating your light fixtures you can make a great impression walking into your kitchen where the fixtures are usually front and center over an island or table like shown here.
To help these new mini chandeliers and the drum shade beyond in the hearth area blend seamlessly with the existing chandelier the client wanted to use in this space, we went with lighter finishes – champagne on the mini chandeliers and silver on the drum shade.
5. Layer in accent color with accessories, rug, or art –  When styling a space for an interior design project, especially a kitchen, I love to introduce a fun accent color that can be layered in on everything from napkins or a rug to platters and art.  In this photo the client styled their live edge shelves to showcase their beautiful collection of red and turquoise dishes which creates a real showstopper in this kitchen, while also providing storage.
for more kitchen design ideas and photos, sign up for our weekly interior design blog here
plus become a fan of Kansas City's interior designer and former host of the Living Large design show, Karen Mills, on Facebook  and Instagram now!