An Interior Designer's Perspective on How to Make Your Kitchen Remodel Appear Bigger
As an interior designer who specializes in kitchen remodels, I often get called on to design a kitchen to live larger. Read on for my 3 expert tips on how to do just that.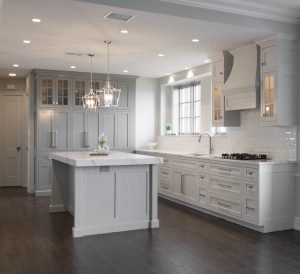 Paint cabinets white or a light neutral color to reflect light around the room so the kitchen appears larger and cabinets seem to disappear. In this kitchen remodel natural light and interior lighting also give the room a larger feel.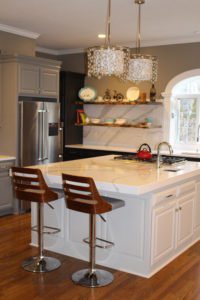 2. Incorporate open shelving or another design element to minimize cabinetry. In this kitchen refresh we not only tore up some upper cabinetry and replaced it with live wood shelves, but we also replaced the countertops with a beautiful white quartz counter that we ran up the wall as a back splash behind the shelving to offset the dark cabinets and lighten the room. Airy mini chandeliers also lighten the look and make the kitchen seem larger.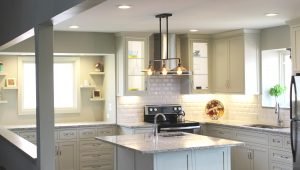 3. Glass lit front cabinets and open shelving open up the upper half of the kitchen to help it live larger. Interior lighting, sunlight, and light neutral painted kitchen cabinets add to the larger feel.
For more great ideas on design or interior decorating sign up for our weekly interior design blog here
Plus become a fan of Kansas City's interior designer and former host of Living Large design show, Karen Mills, on Instagram or Facebook now!