Insightful Tips From an Interior Designer for Creating a More Inviting Entry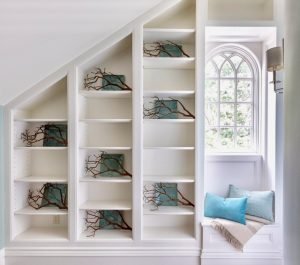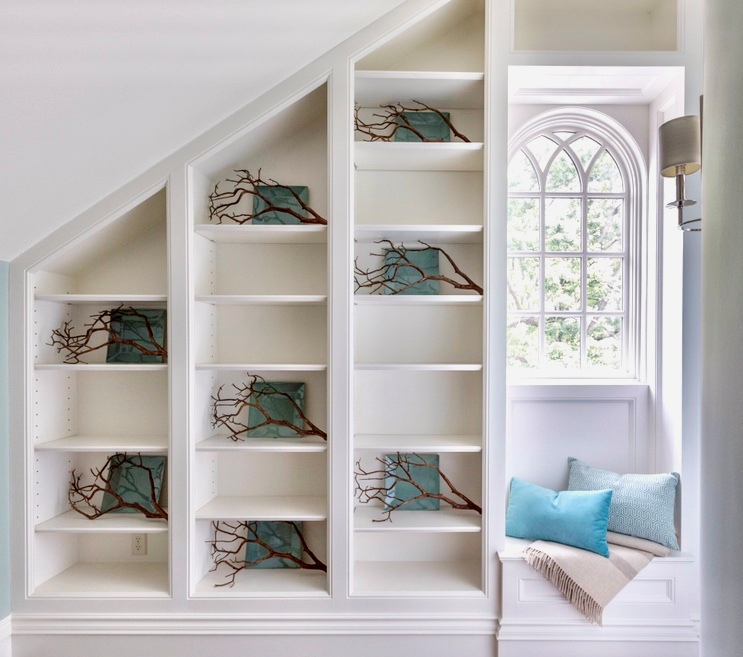 When it comes to interior design often the entry is overlooked even though it makes a huge impact on every new visitor coming through the door. As an interior designer I tell my clients to think of their foyer as an advertisement for their home and what's to come. At a minimum an entry should hold a few of your favorite things and introduce the color scheme for your home's interior design, while also revealing a little bit about your personal style. Read on for 7 simple ways to create a beautiful foyer of your own.
Introduce a Statement Piece of Furniture  – Begin with a piece of furniture that fits easily in your entry such as a sofa table, chest, small desk, or curio. Or emphasize existing architectural features like the built in shelves and bench shown in this foyer. Here the blue green plates add drama to the shelves, while adding a pop of color to help emphasize the dreamy skies beyond.
  Freshen Up with Live Flowers or a Plant – Nothing adds life to a space more than living things from flowers and plants to fresh fruit. But if live plants aren't feasible, opt for dried branches or another textural element to bring the outdoors in like shown here.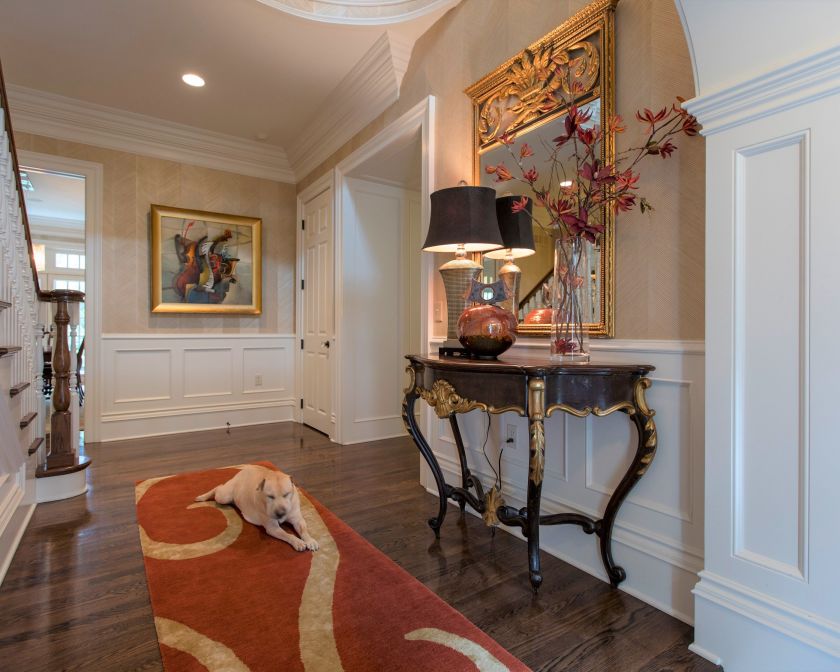 3. Layer in Artwork or a Mirror – Introducing artwork can add texture and reveal a bit of your personality like this original contemporary Mattini painting that's a mix of musical instruments and sets the color scheme for the room. The mirror here is not only functional but also makes a style statement and bounces light around the room. The antique table underneath sourced from the south of France, provides an interesting juxtaposition against the hand made chevron wallpaper and contemporary sculpture in front of it.
4. Ground Your Entry with a Rug – Layering a rug underneath adds warmth, color, and style to your foyer as you can see in this spectacular foyer in Mission Hills.
5. Light it up With a Lamp – Lamps not only provide function and ambiance, but they can introduce more style to a space like this little black dress of a gold lamp oozes with class and style.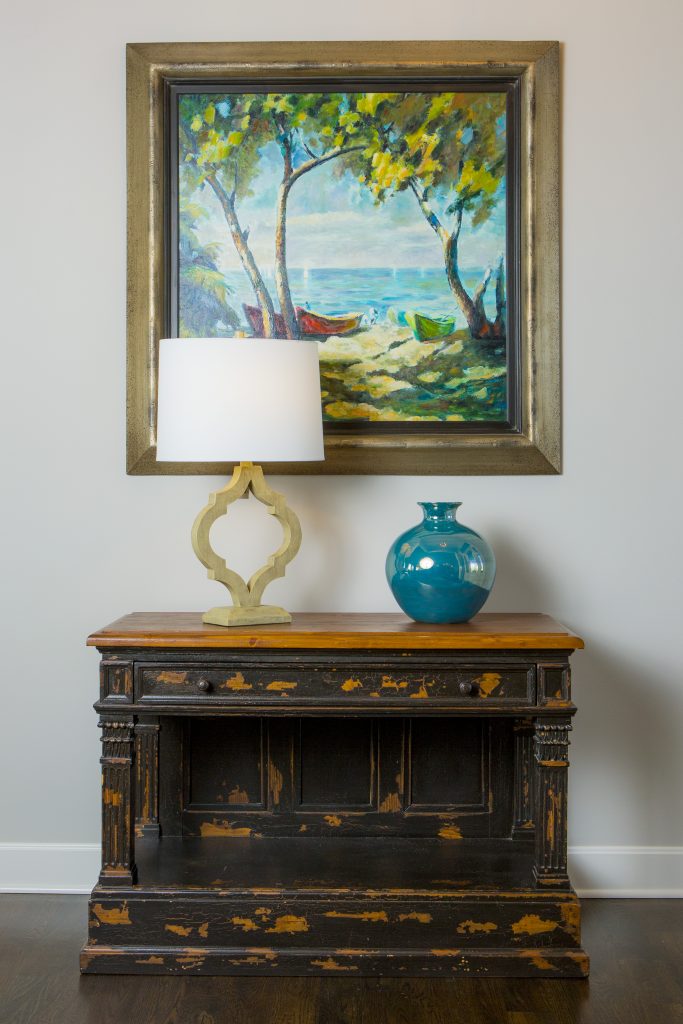 6. Replace Your Overhead Lighting Here in this entry a transitional chandelier (not shown) adds emphasis to this dramatic space while a light hearted Moroccan motif lamp keeps it fun.
7. Tell a Color Story – The colors you introduce in the foyer should reveal the color palette to come in your living spaces beyond. Here we placed a family's beloved heirloom chest front and center and layered in an existing painting overhead that introduced all the colors in the interior from dreamy blues and whites to warm grays, , while also repeating the brown black color of the chest. A blue vase reinforces the color scheme along with the lamp color.
For more inspiration, ideas, and photos, sign up for our weekly interior design blog here.
Plus become a fan of Kansas City's interior designer, former host of the Living Large interior design show, and coach Karen Mills, on
INSTAGRAM and FACEBOOK here!
And for more foyer inspiration, click here to read my Houzz interior design article on Color Palettes for Pleasing Entryway
or my budget tips titled Refresh Foyer for Less