This Year's Latest and Ongoing Design Trends for This Year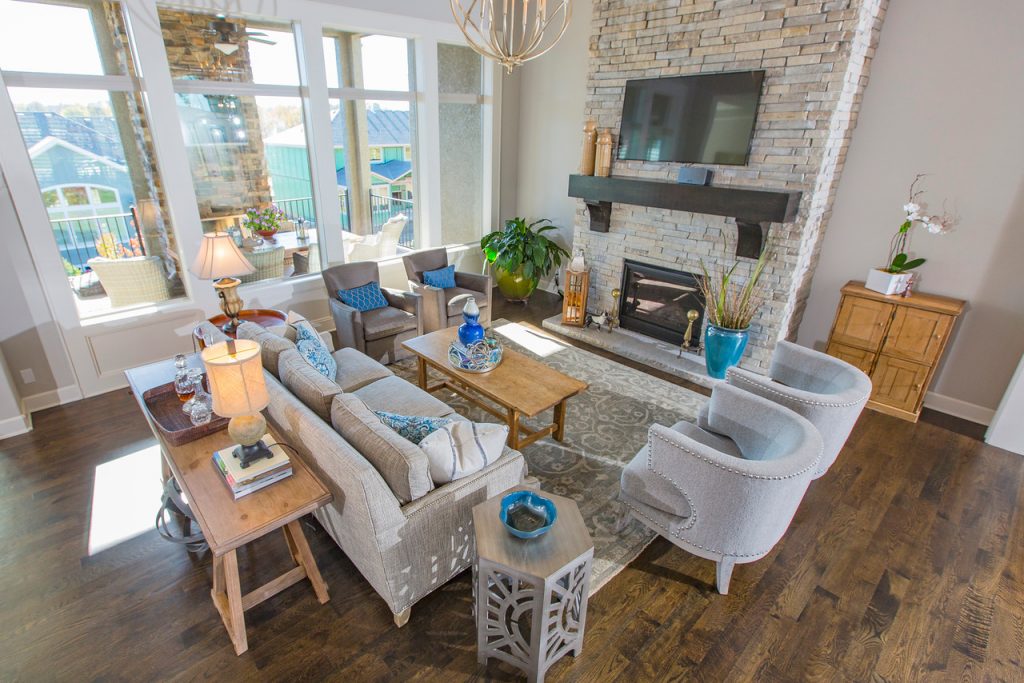 LIVING ROOM INTERIOR DESIGN TRENDS 2023 For the living room our interior design firm is seeing several trends some of which are a continuation of last year including:
➢ OPEN FLOOR PLAN WITH INTIMATE ROOMS OR SPACES THAT CAN BE PARTITIONED OFF WITH DOORS
➢ MODERN RUSTIC DESIGN TO CREATE A MORE INVITING ATMOSPHERE
➢ NATURAL FINISHES SUCH AS STONE, WOOD, OR ORGANIC STYLE ELEMENTS
➢ SIMPLE MODERN FIREPLACE DESIGN THAT USUALLY GOES UP TO CEILING
➢ BUILT IN SHELVING, OFTEN SURROUNDING THE FIREPLACE
➢ MORE NATURAL LIGHT FROM EXPANSIVE WINDOWS AND TALLER CEILINGS
➢ WOOD CEILING BEAMS TO ADD WARMTH AND DRAMA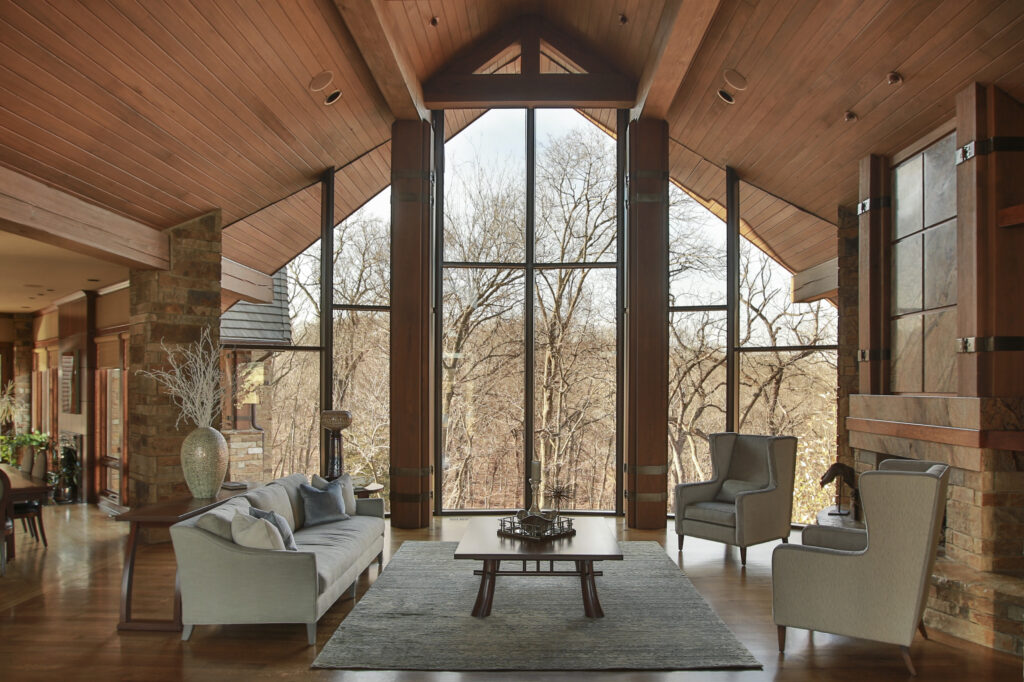 2. FURNITURE/DECOR INTERIOR DESIGN TRENDS For furniture we are seeing a big trend towards sustainable furniture. Sustainable furniture pieces are higher quality items that will last longer and cost less over time instead of cheap throw away furniture. And that makes me happy because as an interior designer I've always seen the value in higher quality furniture that's more comfortable, better looking, and a better value over time. Other trends include:
PERFORMANCE FABRICS ON UPHOLSTERY
➢ TEXTURE OVER BUSY PATTERNS ON FABRICS AND FINISHES
➢ DÉCOR THAT'S MORE FUNCTIONAL OR HAS MEANING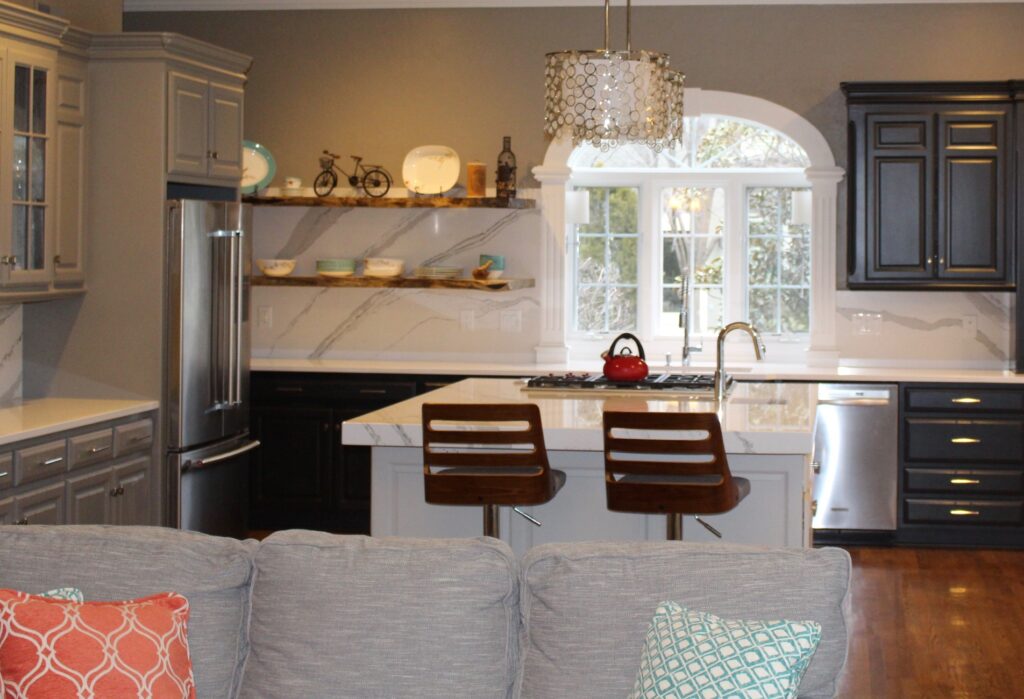 3. KITCHEN INTERIOR DESIGN TRENDS 2023 In the kitchen we are still seeing rustic elements to add warmth but combined with a more modern overall aesthetic. Other kitchen trends in interior design include:
➢ COUNTERTOP AS BACKSPLASH WHICH MEANS THE COUNTERTOPS CONTINUE UP THE WALL TO THE CEILING LIKE SHOWN HERE
➢ FOCUS ON HEALTHY EATING
➢ CONTRAST IN COLOR OR FINISH SUCH AS CONTRASTING ISLAND AND WALL CABINETS LIKE SHOWN HERE OR DIFFERENT METAL FINISHES
➢ QUARTZITE NATURAL MATERIAL COUNTERS ARE GROWING IN POPULARITY OVER QUARTZ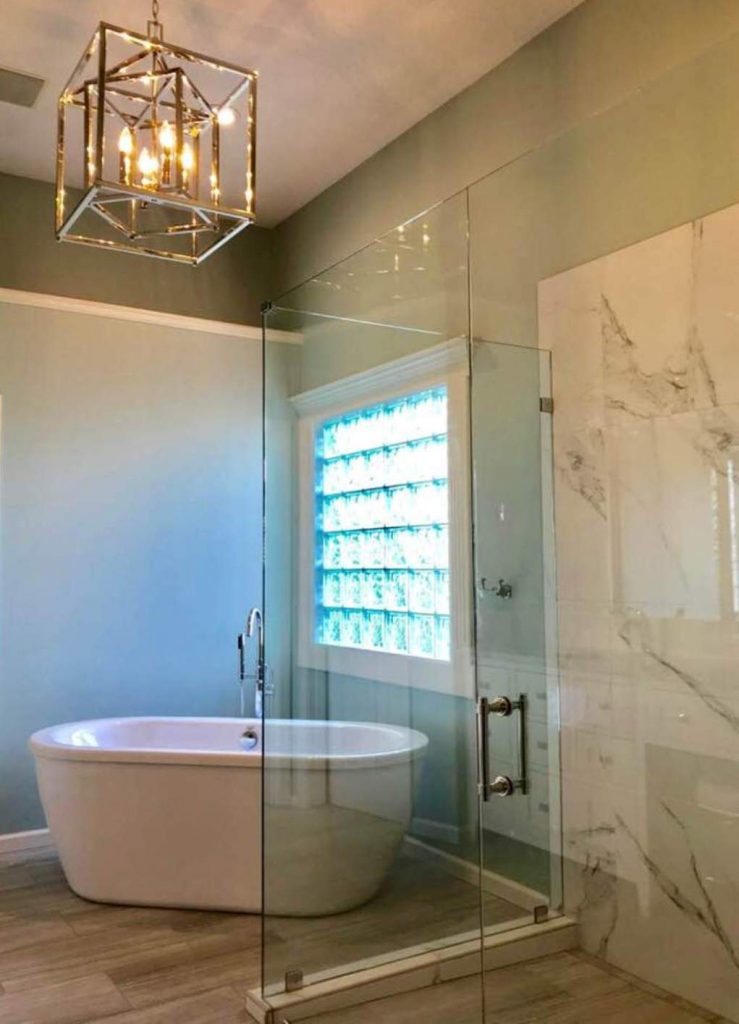 4. BATHROOM INTERIOR DESIGN TRENDS 2023 Of course having a bathroom design that feels like a spa continues to be a huge interior design trend, but other trends include:
➢ CURBLESS SHOWER WHICH IS ALSO CALLED A ZERO ENTRY SHOWER LIKE SHOWN HERE
➢ OVERSIZE LIGHT FIXTURES LIKE SHOWN HERE
➢ TEXTURE ON FINISHES OVER PATTERN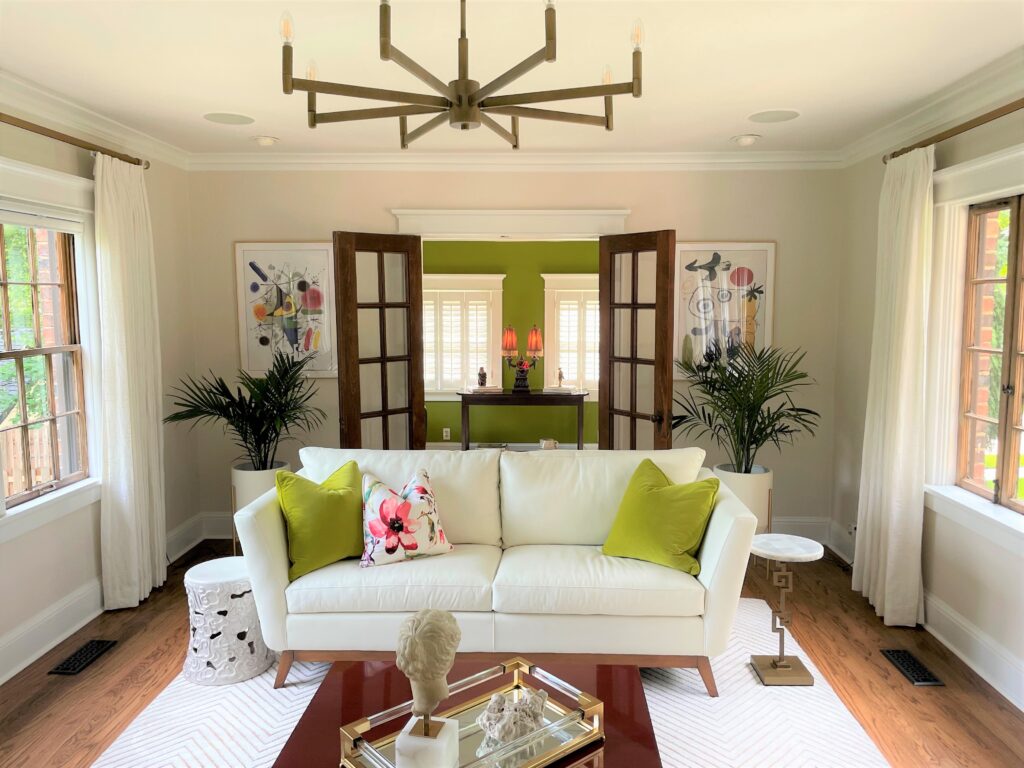 5. COLOR INTERIOR DESIGN TRENDS 2023
➢ BOLD COLORS OF YEAR – GREENS AND MAGENTAS LIKE SHOWN HERE
➢ COLOR BLOCKING (CONTRASTING) LIKE SHOWN HERE ON WALL CONTRASTS
➢ NEUTRALS –WHITE, WARM GRAY/CHARCOAL, BEIGE
For more great interior design ideas, sign up for our design blog here!
plus become a fan of Kansas City's interior designer and former host of the Living Large design show, Karen Mills, on Facebook and Instagram now!
And if you feel someone you know could benefit from this helpful information, pass it on!