If you're like the majority of homeowners around the world, you love the ethereal feel of white kitchens, especially warm inviting ones with layers of texture and interest like this kitchen photo where the table top, formerly a door, was refinished in gray and leather chairs were slip covered in a washable fabric.
Some of you I know will disagree about the appeal of white kitchens but this kitchen has been featured repeatedly in the news, both in national print and on television, plus its a favorite of our clients.  And I think its because of its simplistic, light, classic design and marble counters even though existing cabinets weren't replaced during the remodel.
As an interior designer who specializes in remodels I believe we secretly crave these airy white spaces to work and play in because they not only feel clean and fresh but also reflect light from outside and around the room, enhancing the way we look and often feel when entering the space.
One of the other reasons I believe white kitchens are popular is because can go with almost any accent color and can easily be changed to another color scheme when we tire of the original one.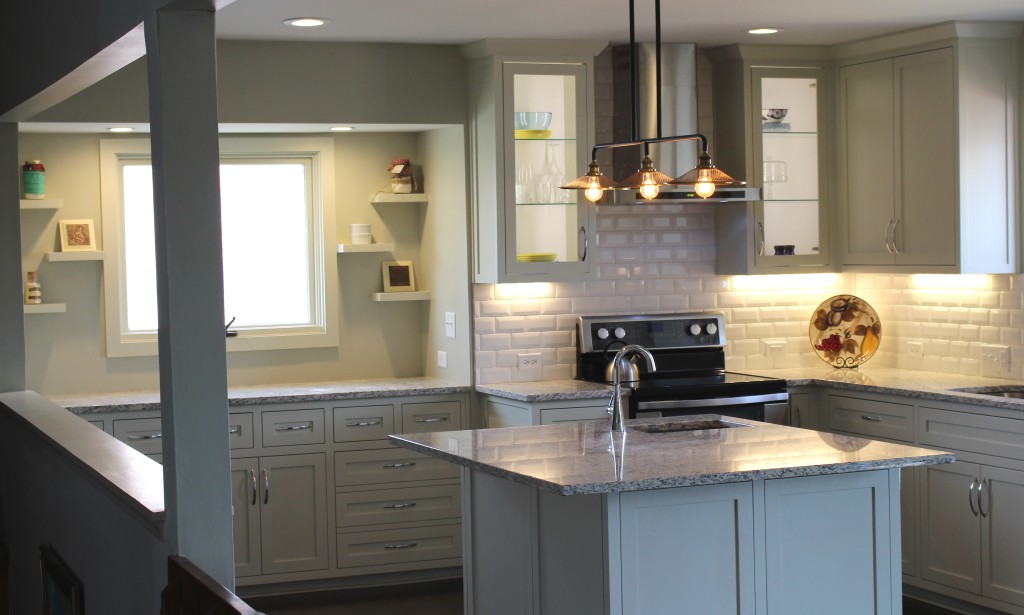 Interior design by Karen Mills
But if you're looking for something different besides a simple white, you might consider having  your kitchen cabinets painted with a white that has been tinted with a favorite color like this photo where cabinets and walls have a hint of green.
For more great kitchen remodeling ideas, sign up for our weekly award winning interior design blog here
Plus become a fan of Kansas City's interior designer and former host of the Living Large interior design show, Karen Mills, on Facebook here!