Design Tips for Making Your Dining Room More Stunning
Lack of emphasis  Creating a focal point with your table in the dining room gives you the opportunity to create a dramatic look, perfect for a dinner table or family gathering. Here in this Mission Hills dining room we began with an existing table and buffet along with selecting a fabulous hand knotted wool rug. Then we took the design to another whole level but introducing more contemporary elements from the stunning Swarovoski crystal chandelier that compels you to take a closer look to the bold abstract art beyond, contemporary sculpture, and rich leather squares on the wall.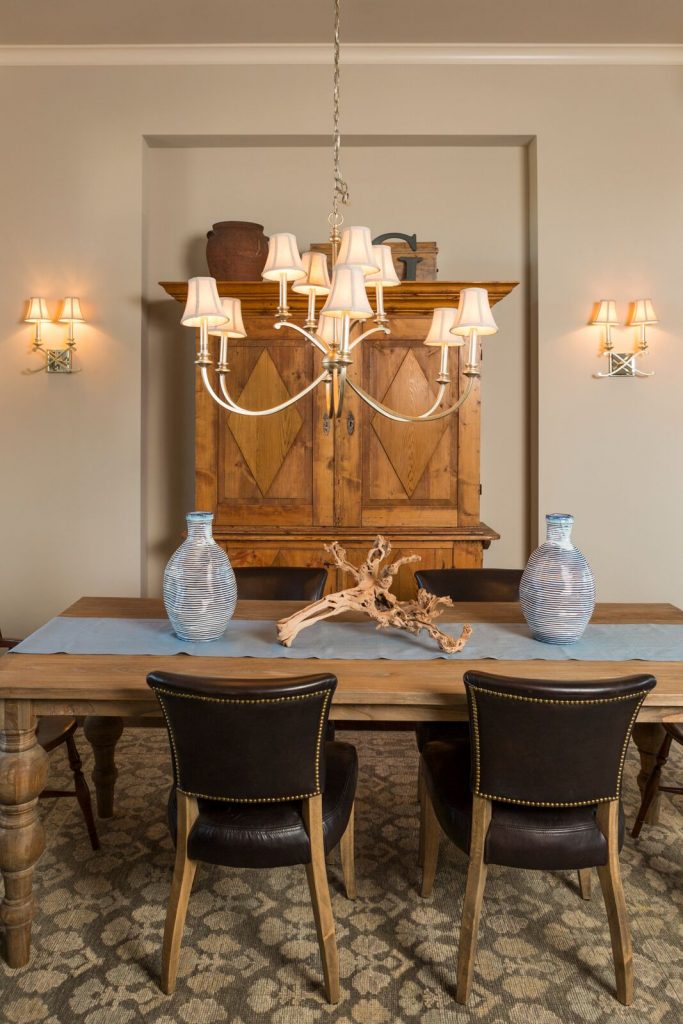 2.  Cold uninviting space –  One of the most common issues I see as an interior designer are dining rooms filled with hard shiny surfaces such as crystal, glass, or ceramic along with nothing on the floor or walls. To rectify this issue, try warming up your dining space with lots of texture. Here in this Overland Park room the client requested we use their heirlooms – a table and armoire, along with leather chairs. To warm up the space, we introduced a piece of gnarled wood, two handmade looking vases, and a custom cloth runner along with layering in a thick hand knotted rug underneath.
3. Looks Unfinished  When we walk into an interior design client's home one of the first things we often see is an undone dining room. To enhance this space and make it more updated, I recommend adding color and items of interest whether with texture or design. In this dining area, we refinished a door in a soft neutral gray, updated the light fixtures overhead, put slipcovers on plain dark leather chairs, and added an interesting centerpiece along with blue art to create an inviting area to eat and relax.
For more inspiration, ideas, and photos, sign up for our weekly interior design blog here.
Plus become a fan of Kansas City's interior designer and former host of the Living Large design show, Karen Mills, on
INSTAGRAM and FACEBOOK here!