Traveling through the remote parts of Turkey in Asia energized and inspired me as an interior designer, especially their bold colors and interesting design.  Of course the food was absolutely wonderful, the scenery stunning, and the people more than welcoming.
After we arrived in the Cappadoccia region known for its fantastic lava formations carved by monks and historical biblical significance, we discovered this quaint little restaurant (shown above) while looking for a little adventure on our motorcycle.
That same day we hiked and climbed the lava formations for hours as we discovered home after home carved out of lava formations.   Can you imagine life in a lava house?
Because we both love spontaneity, we decided to immerse ourselves in the culture fully instead of going the typical tourist route making our adventure even more exciting.
Here in remote Turkey much of the seating is covered with hand knotted rugs as you can see above. This small brick paved village called Goreme, known for launching hundreds of balloons at sunrise to float over their volcanic formations, was our favorite village to explore and stay.
As I reflect on this particular evening in Goreme, I'm reminded of an adventure that night which was one of many unforgettable events during this trip.
Lingering too long that night before we met the airport limo around 10:30 pm, we had to run back to the hotel but my sandals were slipping on the bricks so my son ran ahead.   As luck would have it, I got lost taking the shortcut through the alleys too so I asked a couple of local men for help.
To my horror, I discovered there were two cave hotels with the same name so I knew drastic action was needed.  Taking one of the men up on his generous offer to drive me to the hotels on his motorcycle, we sped off to the hotel arriving just as the limo was starting to pull away.
Of course I would never consider hitchhiking or climbing on a stranger's motorcycle in the U.S. but this remote part of Turkey somehow felt safe..
Like many visitors to Turkey we came back with a hand knotted rug and pillows among other items, but also were given handmade items made by a generous Turkish woman including this scarf pictured above next to our Turkish pillows.
This pillow reminds me of one of our interior design projects done in oranges and blues below, plus some of the interior design colors predicted for 2017 which we will be revealing soon!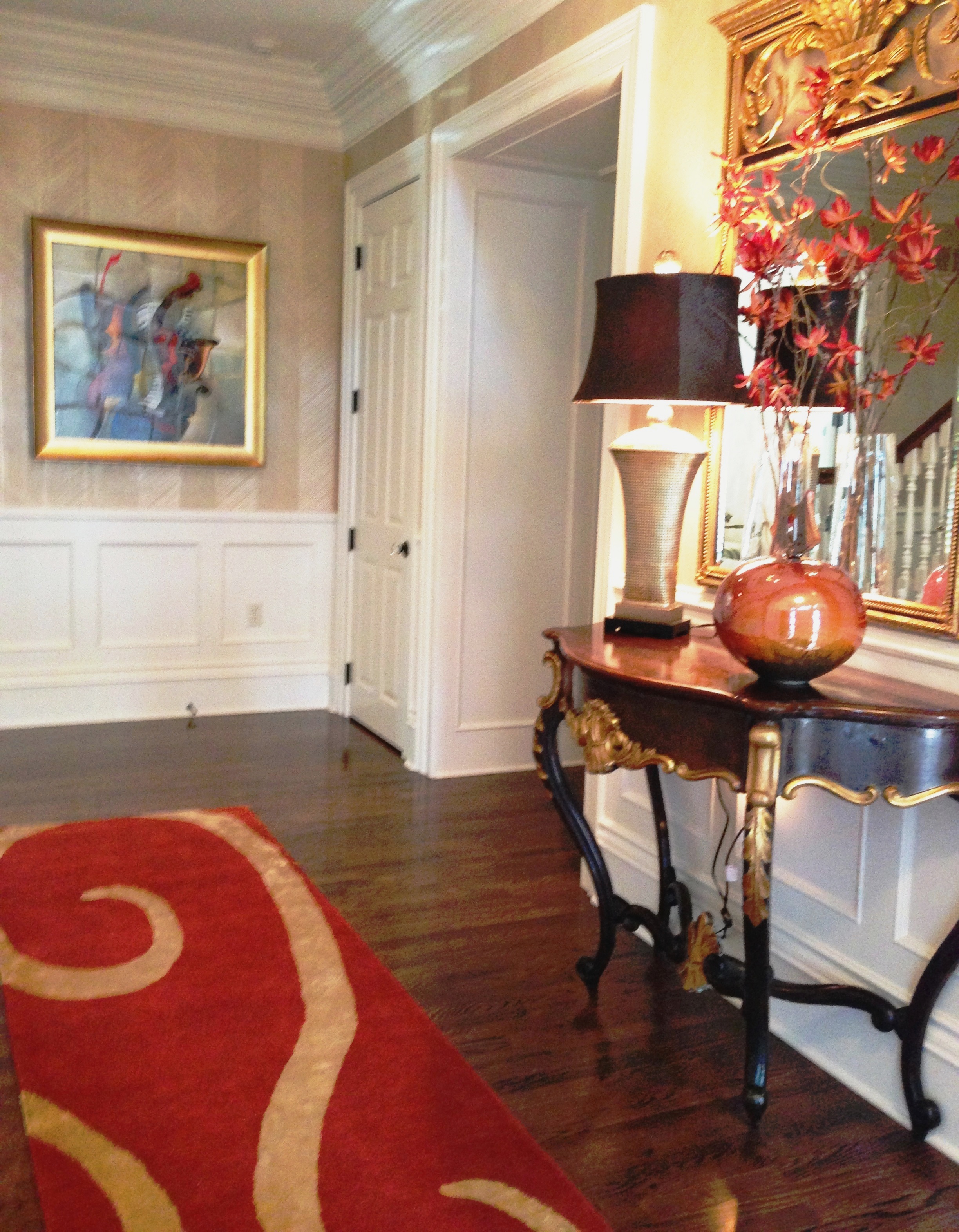 Join us next week as we journey through Istanbul, Turkey with its fabulous mosques, homes, and open air markets as we hunt for more design inspiration.
For more great design ideas or trends, sign up now for our interior design blog here
Plus become a fan of Kansas City's interior designer and former host of the Living Large design show, Karen Mills, on Facebook here!