Want to make your outdoor space more beautiful? Here are 5 ideas for enhancing your outdoor room!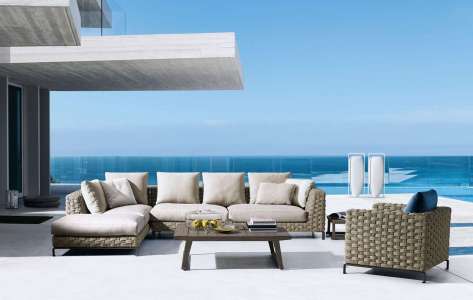 1. Create a cozy outdoor area for lounging or entertaining by grouping seating in a cozy arrangement. Add end tables, coffee tables, outdoor lamps, and an area rug to make it live like indoors. Here in this outdoor area the seating area is centered around the coffee table to create an inviting place to have conversation.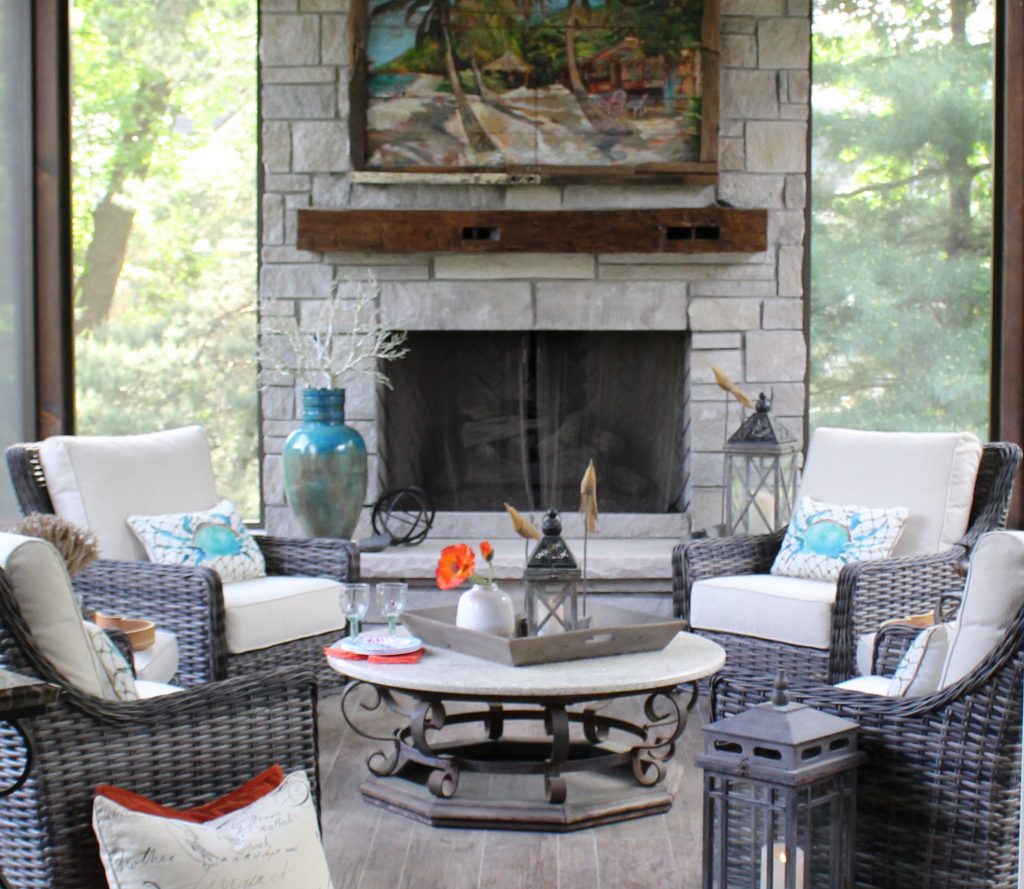 2. Bring in one of kind vintage items to show off your personality. In this outdoor porch area, my clients introduced a table base they found along with stone top for the coffee table to create a one of kind space.
3. Layer in different textures to keep the space interesting such as wood, metal, wicker, or plants. Here in this outdoor room a wood roof and decking provide texture along with wicker seating, fabric cushions/pillows, woven rugs and a metal table to create a visually compelling space.
4. Add a water feature to create ambiance and to reduce outside noise from neighbors or the street with a small bubbler, hanging fountain, or even tabletop fountain. Here in this outdoor a pool beyond provides the water feature that could also include a waterfall or fountains.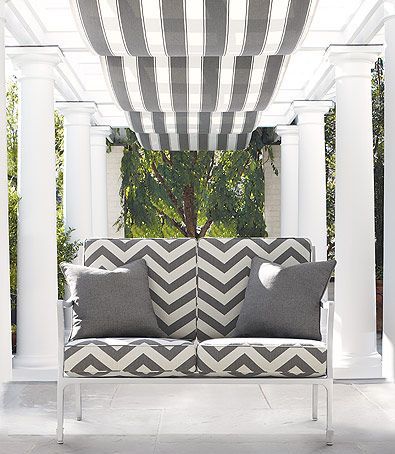 5. Add height to your outdoor space. One of my favorite ways as an interior designer to add height to my client's outdoor spaces inexpensively starts with tall drapery panels on a pergola or porch or a potted tree that can be brought outside for the season.
For my own outdoor oasis, I designed a beautiful outdoor pergola with grand white Greek columns covered with climbing flowering vines and a curved header between snuggled inside a beautiful berm of trees with thick cushioned seating underneath.
Have a wonderful and safe Fourth of July holiday with your family and friends!
For more great ideas on outdoor living, join our weekly interior design blog here!
Plus become a fan of Kansas City's interior designer and former host of the Living Large design show, Karen Mills, on Facebook here or instagram here!