An Interior Designer's Suggestions for Adapting to Working or Playing at Home
We understand how you feel and we are here for you, your family, and your business during this season. As the owner of a small business and mother of four with a second grand baby on the way I get it so my biggest focus right now at work/home is keeping everyone safe in a nurturing stress free environment – our specialty.
That's why I'm reaching out from my home to yours today to share some simple ideas for making your interiors, including your home office, a space that reduces stress and helps nurture the soul.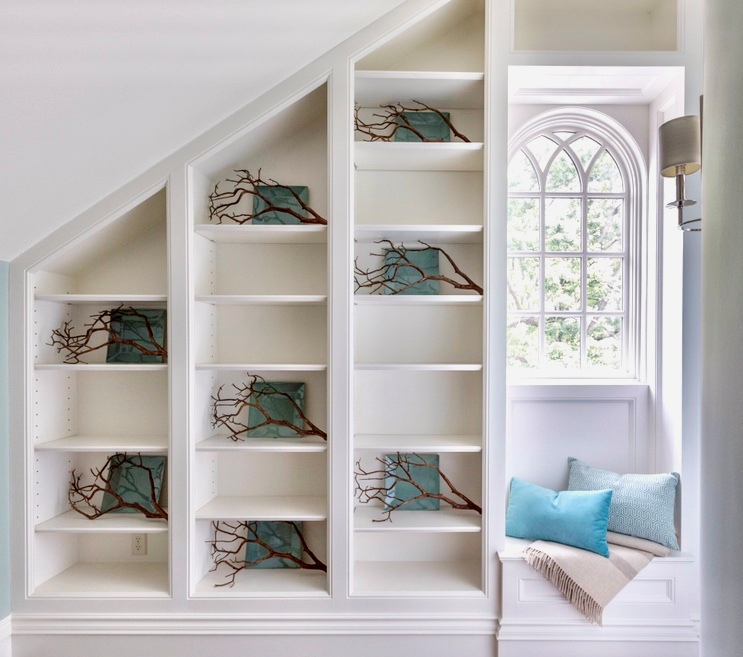 Inviting Ambiance – If you've followed our interior design/decorating blog for any length of time you know that our number one requirement for designing a beautiful interior is that it's inviting. To make your space warm and inviting begin with colors that soothe you, textural finishes, and good lighting for starters without too much pattern.. In this Mission Hills entryway we began with a calming color scheme of blue and white on the walls, then layered in a cozy textural throw and blue pillows to create a perfect spot to relax by the window, while also mimicking the view of nature beyond with branches strategically placed on adjoining shelves. Click here for 3 Tips For Creating a Cozy bedroom.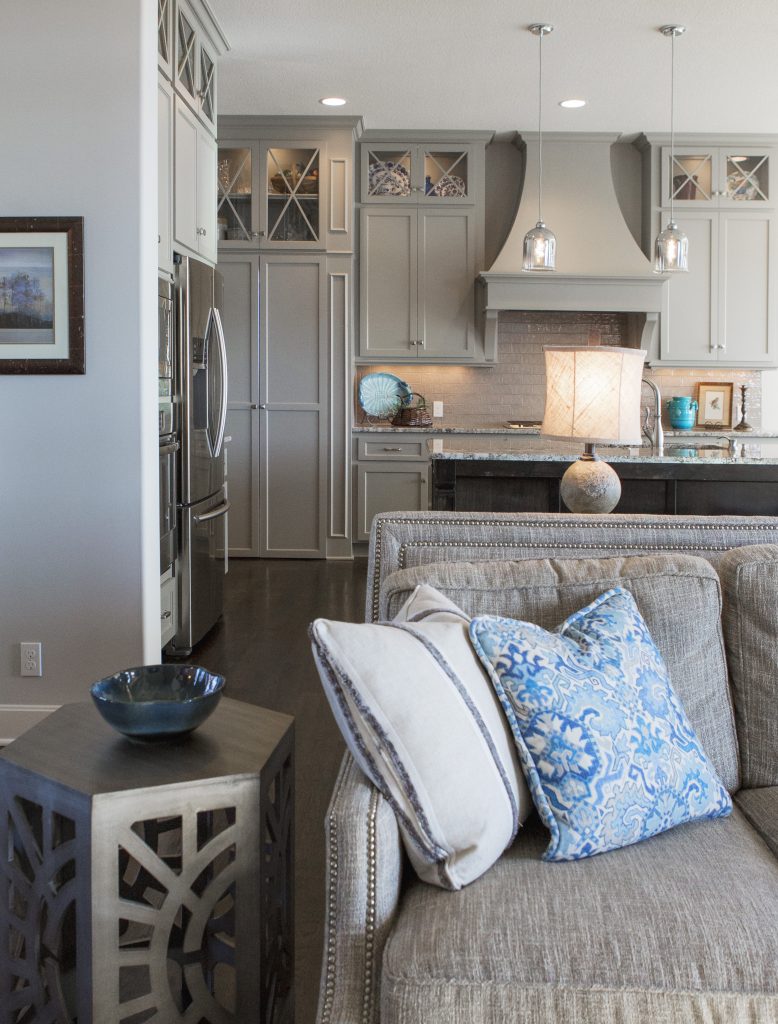 2. Clear Clutter and Get Organized – As an interior designer who's worked on over 1200 projects I truly understand the impact of clutter and disorganization on elevating stress levels so now is the time to take action and clear the mess before you even think about decorating. Start by removing any clutter on floors, furniture and shelves, while also getting organized and I guarantee when you're finished you will feel better.
In this Overland Park home interior design project we added only a few decor pieces to create a peaceful atmosphere with calming blue pillows and decor on the sofa, end table, and kitchen counters beyond.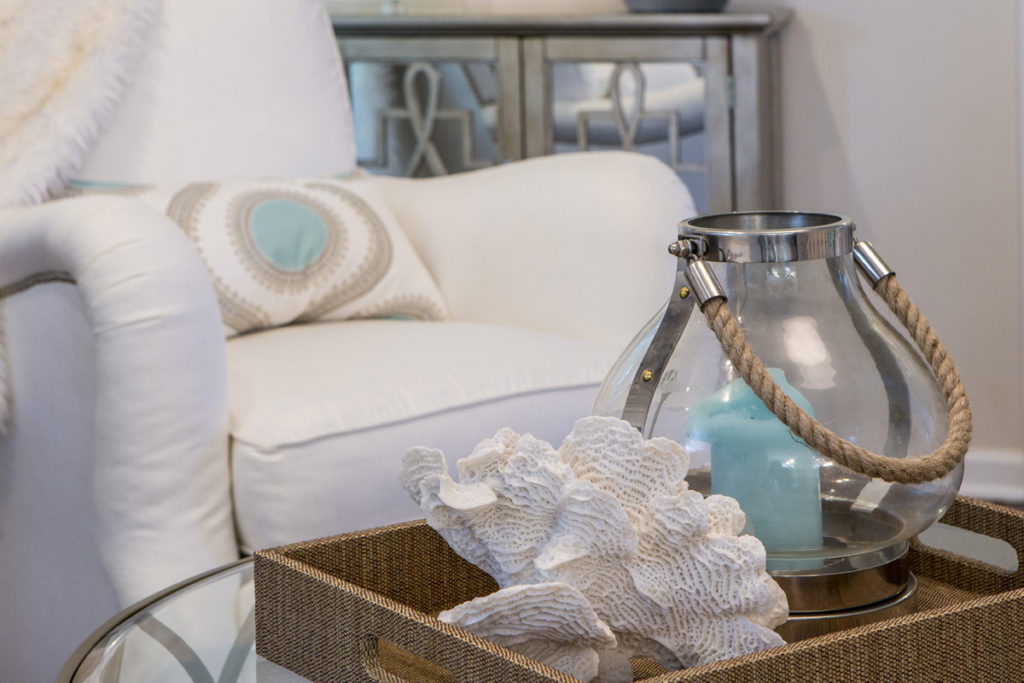 3. Layer in Meaningful Decor – I'm a huge proponent of decorating with items that speak to you on an emotional level whether its a treasured family heirloom as I have throughout my personal living space or items that bring you joy like this Overland Park hearth design that features a tray with casual textural beach items that are a happy reminder to our client of her love of the ocean. Just be sure when you're introducing your meaningful decor that it doesn't clash with other items nearby which can add stress instead of a calming feel. Click here to read our Design Dilemma blog on how to layer in meaningful furnishings.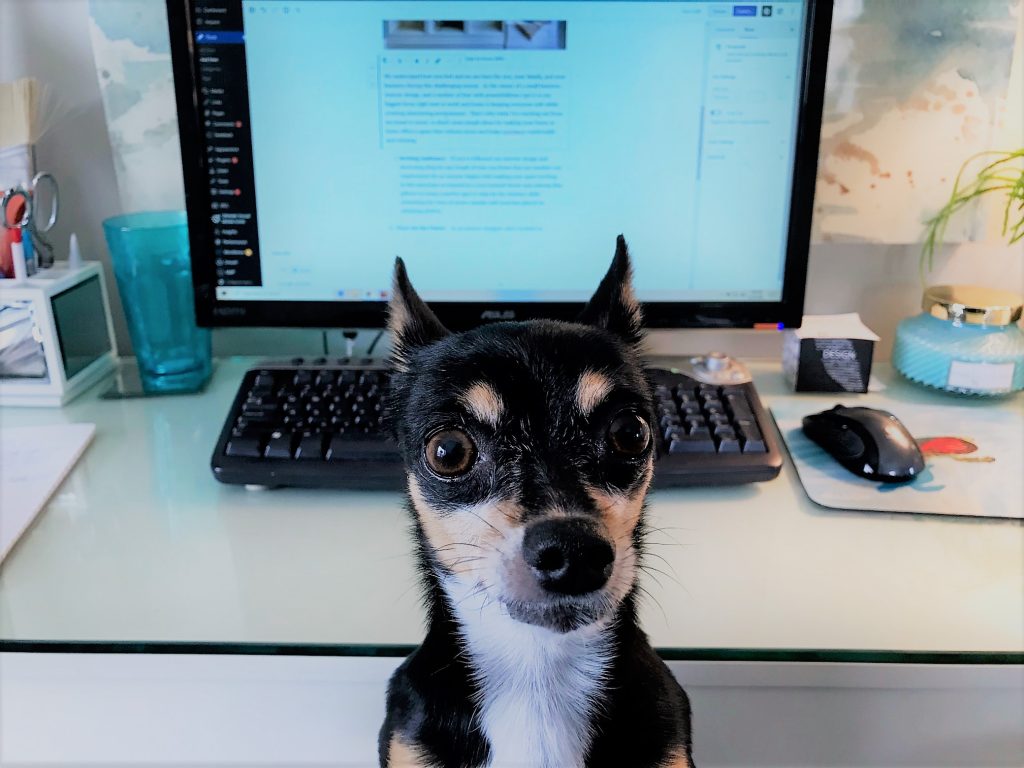 As I'm sitting in my home office right now I'm surrounded by meaningful things -an ocean painting, mouse pad, and blue candle that smells of sea salt – a reminder of a favorite trip to the Galapagos, along with a bright green plant that reminds me of my love of the outdoors, and my adopted dog Mila who's anxiously awaiting a walk.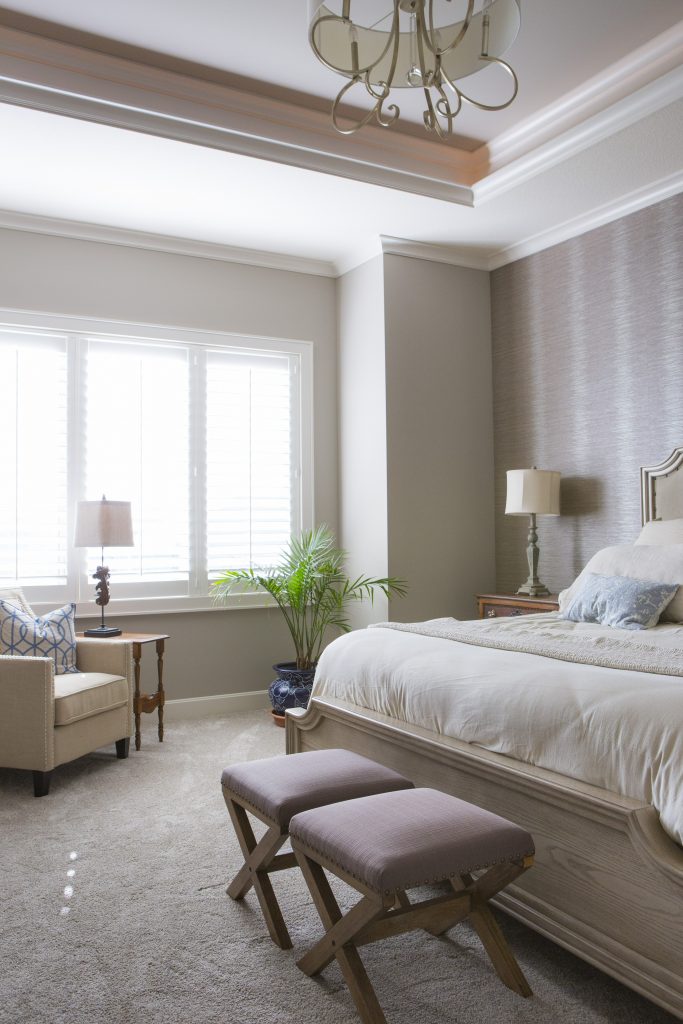 Overall the key to creating a nurturing stress free environment begins with decluttering and getting organized then editing out most furnishings with busy patterns, while introducing meaningful things that fit with your interior design.
If you're looking for more custom interior design, decorating, or remodeling inspiration, ideas, and photos, sign up for our weekly interior design blog here
Plus check out our recent kitchen remodel blogs – 3 Big Kitchen Trends for 2020 and 5 Big Mistakes We Make in the Kitchen and become a fan of Kansas City's interior designer and former host of the Living Large design show, Karen Mills, on 
INSTAGRAM and FACEBOOK here!