How to Choose Your Outdoor Furniture Wisely
As Memorial Day is drawing near some of you are contemplating an investment in quality outdoor upholstery where you can spend the days outdoors relaxing with family or friends. Here are my 3 tips as an interior designer for selecting outdoor furniture that will be a good investment.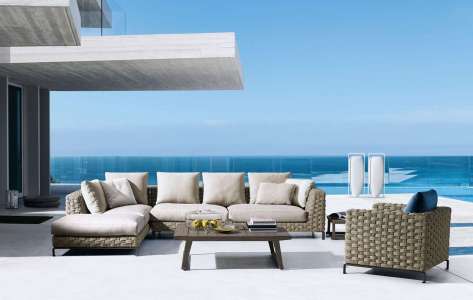 Functional Furniture – Comfort is my top priority when selecting outdoor upholstery so make sure you try sitting on the furniture for at least 20 minutes to ensure it's comfortable and fits your body type – seating height and depth plus arm location and overall size. Thicker cushions and sizes are also critical when purchasing because the furniture may too large for your space if you haven't measured ahead. Here in this outdoor space by B&B Italia furniture the furniture is amply spaced apart providing comfortable seating.
2. A color that will stand the test of time I think we as consumers are naturally drawn to our favorite colors and often purchase based on that fact alone but when you're investing in a quality piece(s) of outdoor furniture you might want to consider longevity of a frame when selecting colors that aren't neutral.
Of course if a particular color is part of who you are and always has been, then it may not matter. For me as an interior designer, my favorite color is usually what we are designing that day or week. That's why neutral seating frames and/or cushions like shown on this porch are often best because pillows and other accessories can create a fresh new look without a big investment.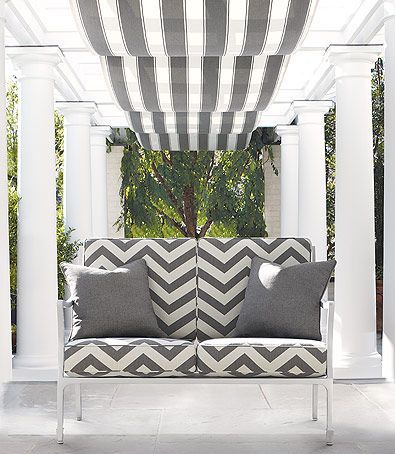 3. Design Style
Style, a key factor in selecting furniture, plays a huge role outside because the furnishings must not only coordinate with the exterior of the home and the view beyond but also relate to the adjacent rooms inside.
In this outdoor space the white furniture and cushion color help marry the contemporary fabric with the more traditional Greek pillars to create a more cohesive feel.
For more great ideas and photos on outdoor design and furniture, sign up for our weekly interior design blog here
Plus become a fan of Kansas City's interior designer and former host of the Living Large design show, Karen Mills, on
INSTAGRAM and FACEBOOK here!