Functional Kitchen Design or Remodel Tips
Are you ready to refresh or remodel your dated or ugly kitchen? If so, read on for professional designer tips on what to keep in mind.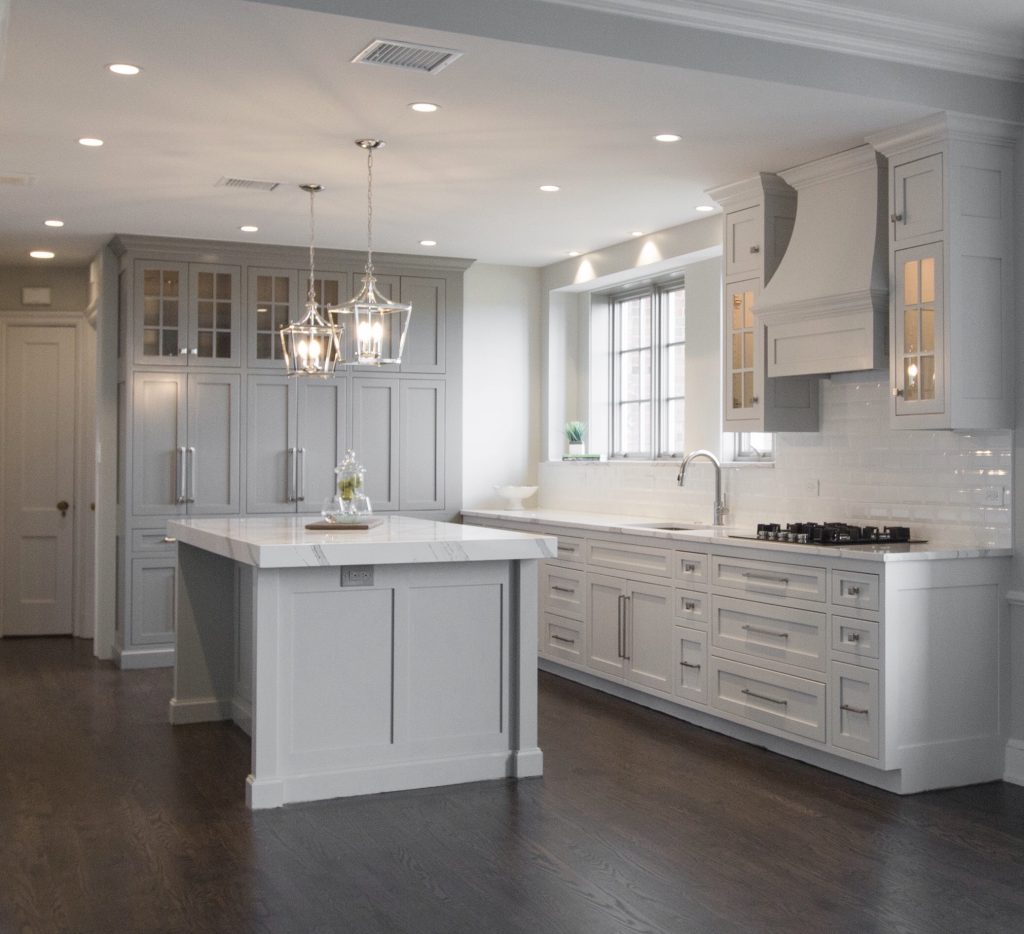 Not bringing in a professional – Hiring a professional kitchen designer with experience who creates kitchens and bathrooms for a living can help you avoid costly mistakes, free up your time, and create the space of your dreams, while ensuring your space is functional. In this kitchen design we opened up the wall between the maid's room and existing kitchen in this high-rise building to enlarge the space. But we didn't stop there. We took the two mismatched windows from each existing room and right sized them to work seamlessly together for a more cohesive design and to bring in more light. Then we added wood flooring and beautiful lighting to give the horribly dated dark existing kitchen new life after opening up the wall to the dining room next door so we could create hearth room for relaxing and entertaining.
Wasting storage potential – Countless storage options exist so there's no reason to waste space in the kitchen especially with the adaptive kitchen storage units that make drawers and cabinets more functional from trash pullouts to roll out shelves. Here in this fabulous historic Walnuts condo where space is at a premium, we added pegged drawers under the stove for pots/lids, hidden pop open storage under the island. and used the extra space we gained straightening out a crooked back wall to create a coffee bar and pantry storage cabinet that's draws you into the space.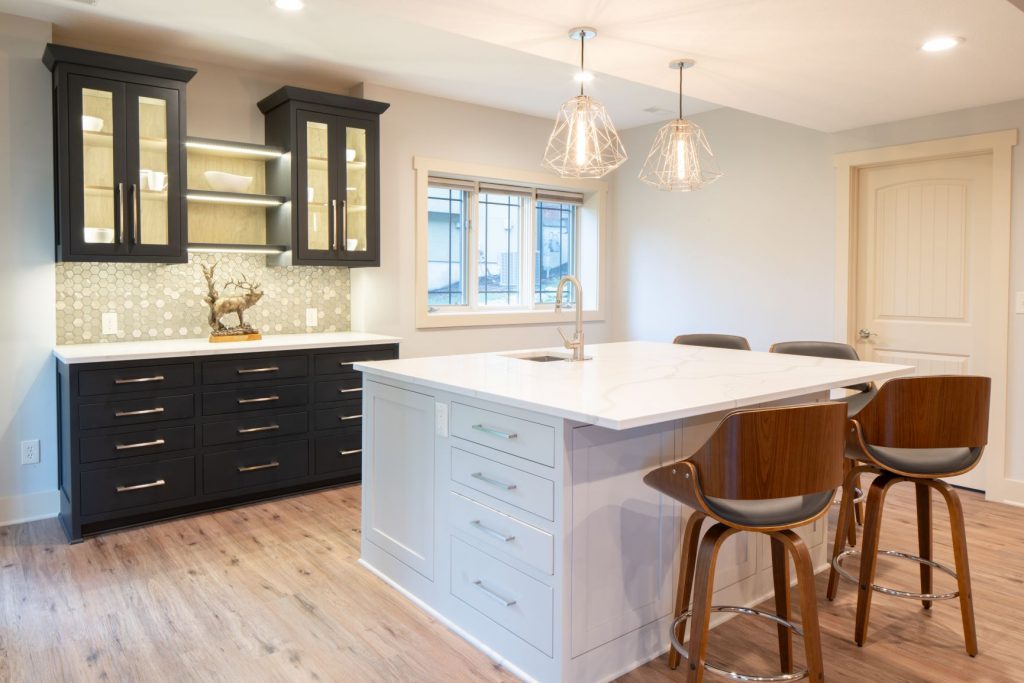 3. Insufficient or appropriate lighting – If your new kitchen doesn't have a mix of general, task, and accent lighting, it will tend to be a little lackluster in appeal and possibly function too.
Here in this basement bar kitchen design, I created a space with can lights in the ceiling for general lighting, rope lighting inside glass cabinets/shelves for accent lighting to enhance the design, and mini chandeliers over the island that not only provide accent lighting but also task lighting for working in the kitchen.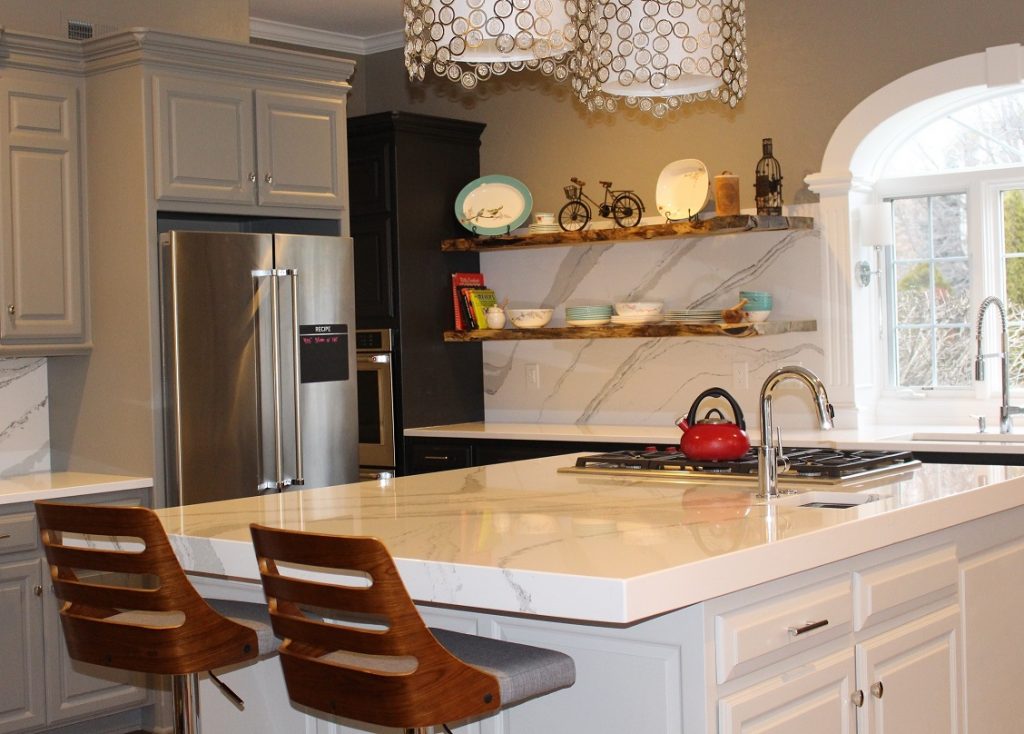 4. Work Area Not Functional – Creating a functional layout is the first step to kitchen design whether you're designing for a new home or doing a kitchen remodel. Here in this kitchen a work area with the stove, refrigerator, and sink easily accessible within a few steps of each other makes cooking easier and less frustrating.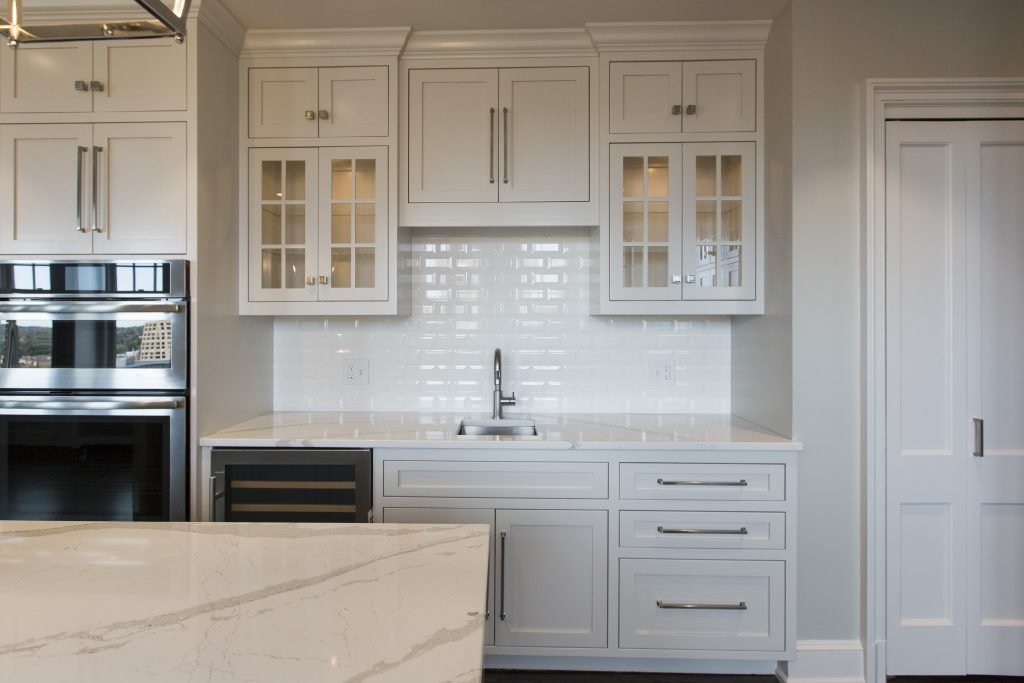 5. Work Area Too Cramped- As an interior designer I've lost count on how many times I've walked into a home that didn't have enough workspace. Even though the recommended distance between an island and wall cabinetry is at least 42″ I usually I find that the minimum required distance of 36″ is often the reality of existing kitchens which creates a cramped space that's not very functional because you can barely open the oven door or get between rows of cabinetry to access a drawer. Other issues I often encounter with interior design clients who have existing kitchens are drawers or refrigerator doors can't open fully to function correctly.
Here in this kitchen our interior design firm designed, we ensured we had at least 42″ between cabinetry in this small kitchen so everything was easily accessible.
For more inspiration, ideas, and photos, sign up for our semi-monthly interior design blog here.
Or sign up for our exclusive weekly email newsletter where we give you even more insight into interior design simply drop us a line at karen@karenmills.net or reach out to discuss your design project now.