Like any project that involves money, you need a budget or at least a range before you start. Do some research and bring in the experts  – an interior designer, contractor/builder, and/or architect  to give an estimated investment.  Then follow these 7 steps to create the room of your dreams!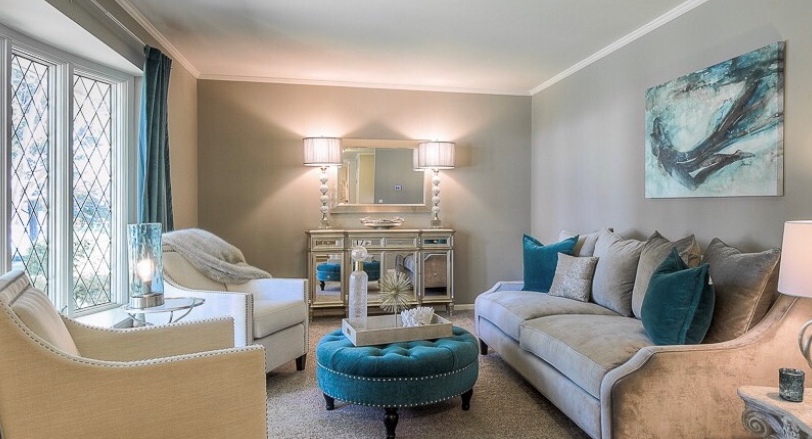 Decide on a design style or mix of styles that will flow with your architecture and existing furnishings you will be re purposing.   As an interior designer in Kansas City, I always suggest clients select several photos of room designs they like and make sure any spouse or significant other involved agrees. Here in this great room our client wanted a glamorous Hollywood style mixed with touches from the beach in decor and color.
 2. Determine your color scheme ensuring it coordinates with adjoining rooms and any  existing furnishings to be used in the interior design.   If you have no idea, take a look in your closet to see what colors you're drawn too or pull colors out of an inspiration piece like we did here with the existing artwork.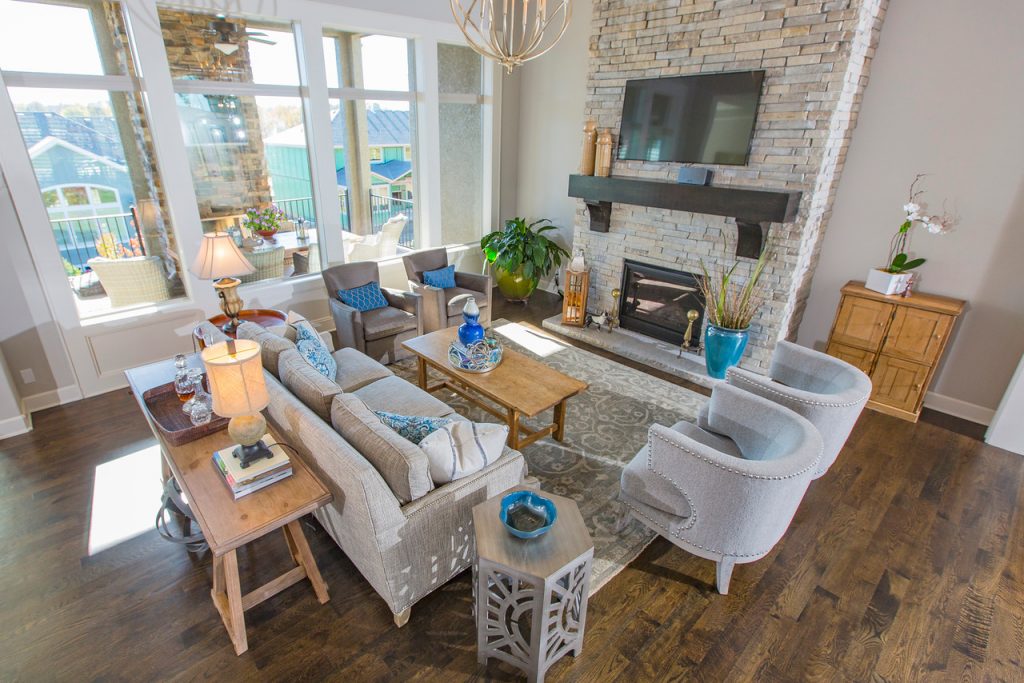 3. Create a floor plan so you know what fits in your space and the sizes you need.   To do that you can go online and use space planning software or get an interior designer to help.
In this living room, we created a U shaped seating area to add emphasis to the fireplace which is the main focal point in the room.
  4.  Set a timetable.   At this point you might want to bring in an expert – interior designer and/or contractor/builder to review your design time frame because investing a few dollars for a master plan and viable timetable can help avoid thousands of dollars in costly mistakes later.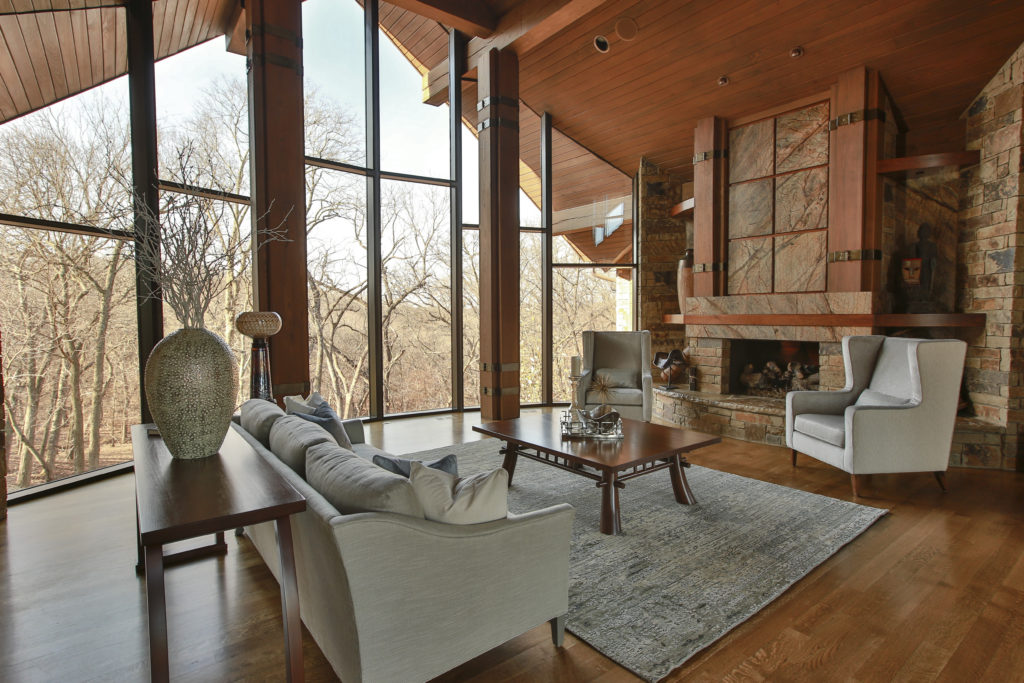 5. Design and order custom furniture and any built in cabinetry after consulting with your interior designer or tradespeople if you're managing the project yourself. At this point all custom designs need to be finalized and ordered.   In addition permits need to be pulled for any construction.
In this great room we designed a custom sofa and reupholstered two chairs to perch atop a cozy organic style rug we found.
6.  Select and order all plumbing, flooring, tile, and general lighting, if needed.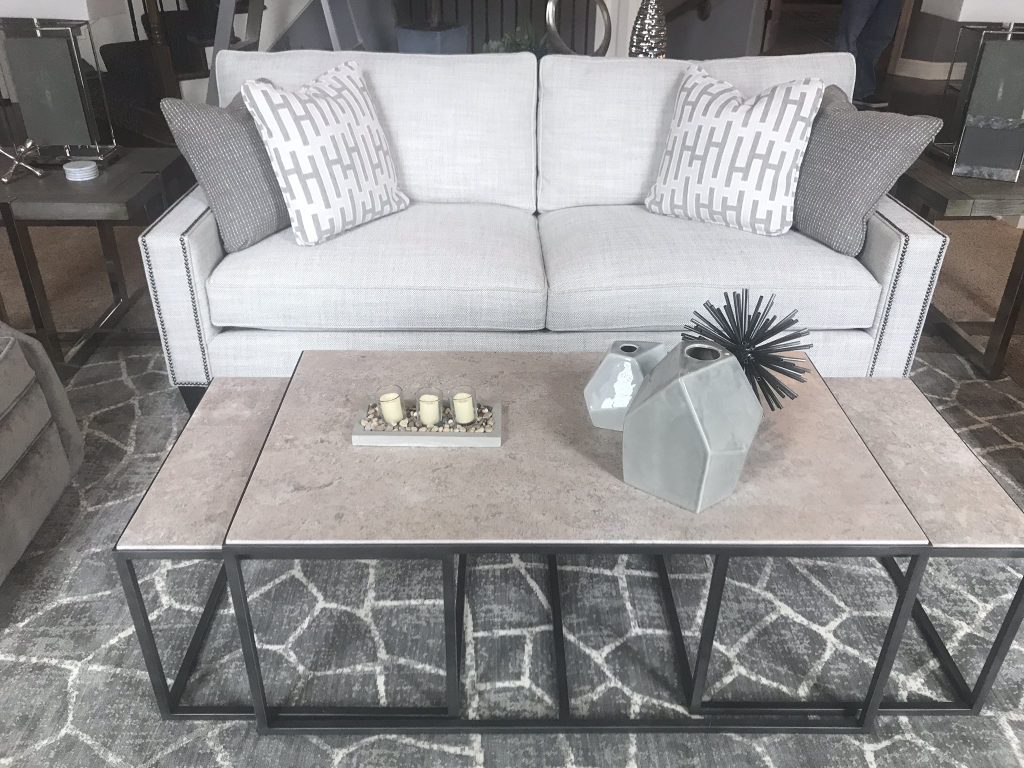 7.  Design additional furnishings
Furnishings may include rugs, window treatments, pillows, bedding or other items.  In addition ensure you select art, finishes, and other decor needed. Here we found coordinating pillow fabrics, a rug, tables, lamps, and decor to coordinate the custom sofa we designed.
For more great ideas and photos, sign up for our weekly interior design blog here
Plus become a fan of Kansas City's interior designer and former host of the Living Large design show, Karen Mills, on
INSTAGRAM and FACEBOOK here!