Universal Design Tips to Make Your Bathroom More Functional for Everyone
As people we often think we are invincible or that we will never age or get hurt. But let's face it. That's not a reasonable assumption. So if you're planning to stay in your home for ten years or longer ensure that you have a bathroom designed to work for you or family/friends coming to stay whether you're recovering from surgery, have smaller children who may use the space, or an older adult who could fall. Read on for my universal bathroom interior design tips now.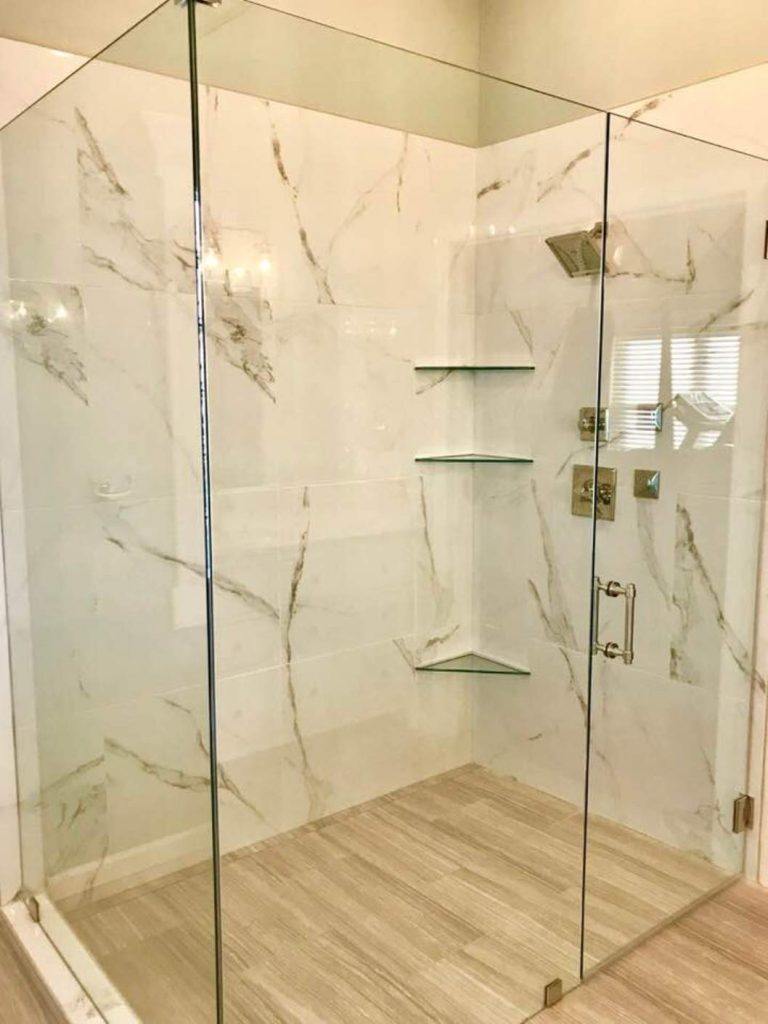 Zero Entry Curbless Shower with a wide opening – As shown above a zero entry or curb less shower entry has no lip or curb for someone to trip over and allows for you to enter your shower safely whether in a wheelchair, walker, or other adaptive device. Just remember if you want to accommodate a wheelchair to have ample space to turnaround.
A lower glass shelf allows females to shave their legs without having to bend over or brace their leg against the tile.
2, Wider doorways into the shower and the room. By including a minimum of 36″ width for an entry door into the bedroom and bathroom you can allow for wheelchair in the future if needed.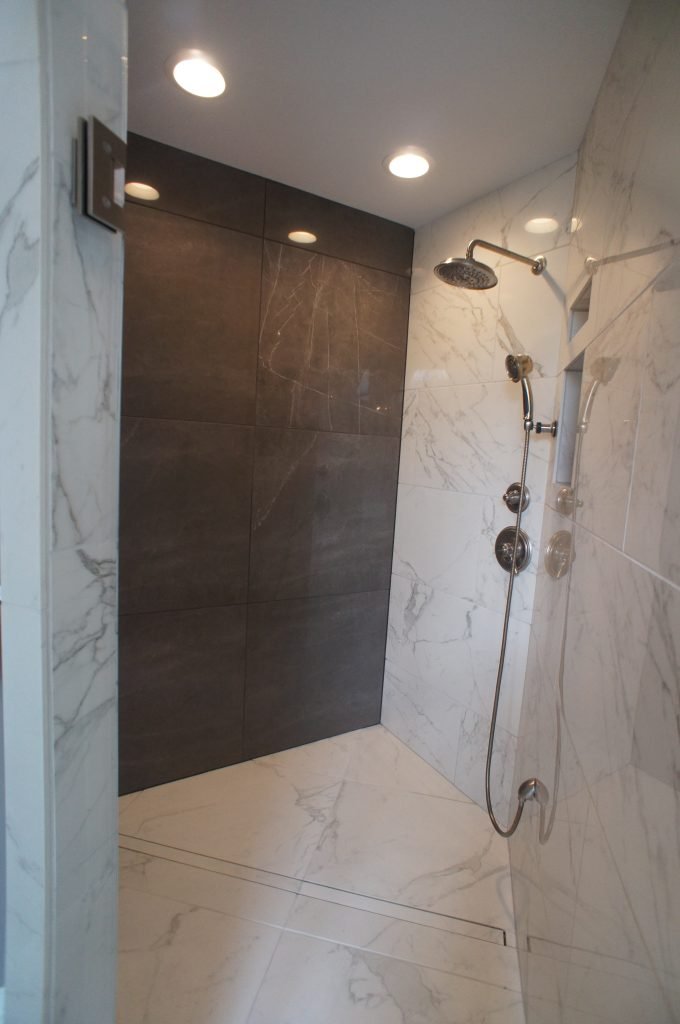 3. Handheld Shower Head – As an interior designer I consider adjustable shower heads as a must have. Not only does it make it easier for you to rinse every part of your body, a child or even a pet, but they also make cleaning the shower tiles immensely easier and can accommodate you even in a wheelchair or on a bench after surgery.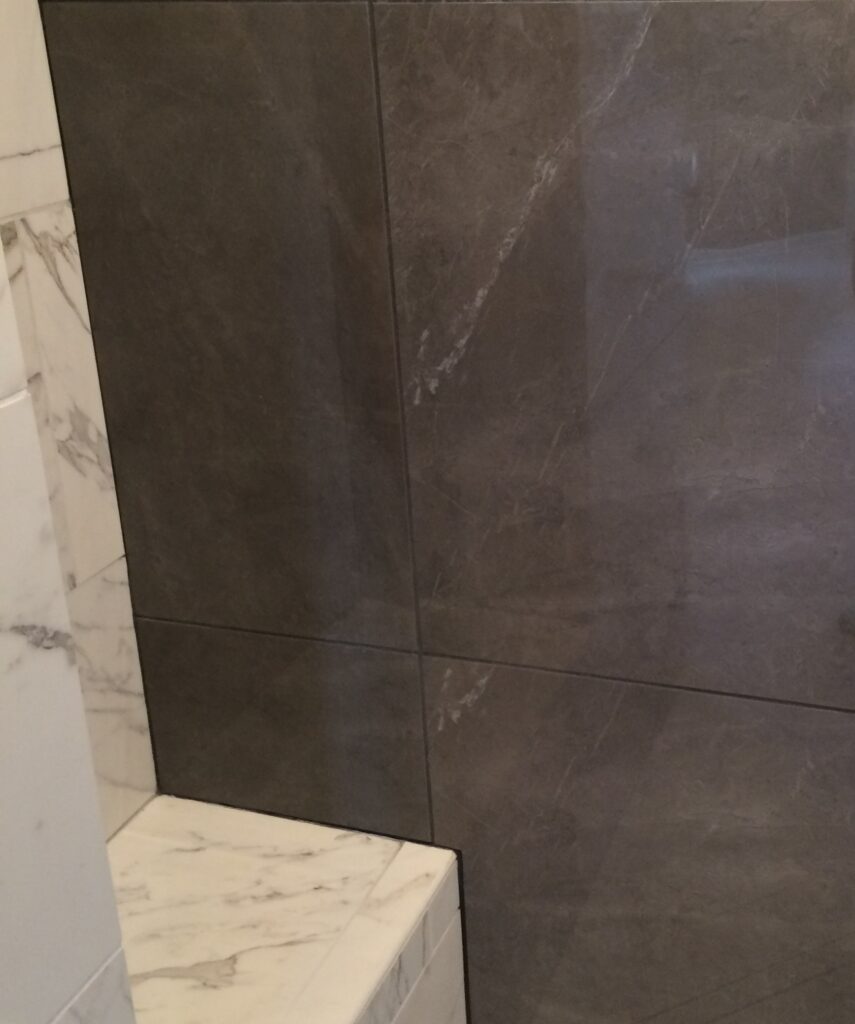 4. Shower Bench – Adding a bench when you have room can be invaluable not only for shaving your legs but also as a place to rest when needed or even store toiletries.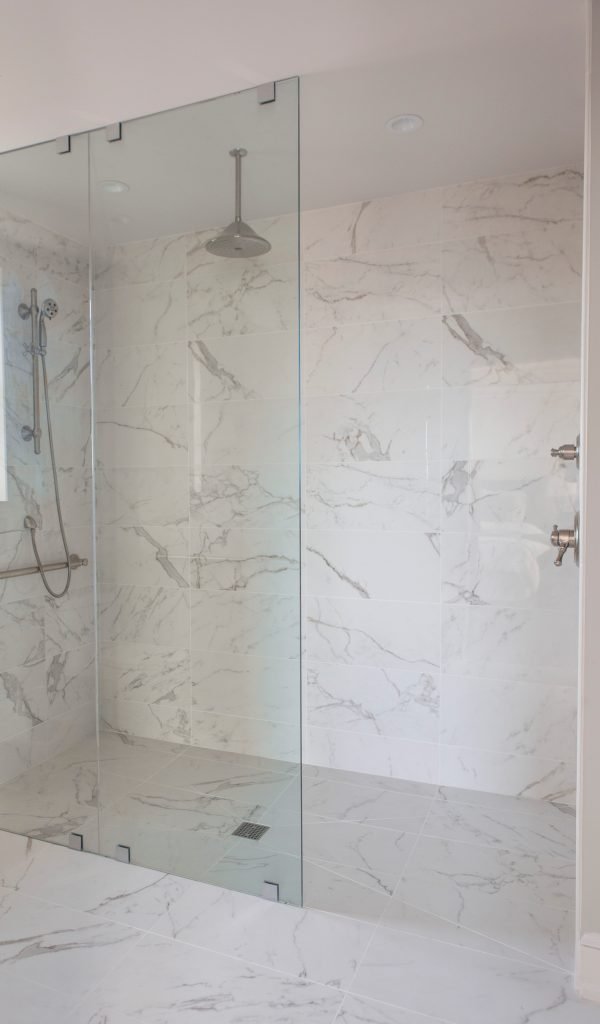 5. Grab Bars That Look Like Towel Bars – No matter what your age it's never a bad idea to install a grab bar or two in case you lose your balance or need them for support. And what better way to do that than purchasing less industrial style bars that look like attractive towel bars.
6. Ample Lighting – General, Accent, and Task As a female I can't tell you now many times I've had to shave my legs in the dark and that's no fun. By installing waterproof lights in the shower you will be able to see better, function better and even clean better. Plus these task lights also act as accent lighting to show off the beautiful Italian marble on the walls and floor.
But remember to also include general overhead lighting on a dimmer to provide another layer of lighting for walking through, shaving, putting on make-up or other tasks in the bathroom.
7. Comfort height toilet For most adults in the U.S. a higher toilet will be easier to use especially as we age in place.
In summary before you start construction on a major bathroom design, renovation, or new build take some time first to consider who will be living in the house and for how long.
For more great interior design ideas, sign up for our design blog here!
plus become a fan of Kansas City's interior designer and former host of the Living Large design show, Karen Mills, on Facebook and Instagram now!
And if you feel someone you know could benefit from this helpful information, pass it on!