Since we don't spend much time in dining rooms it's a great opportunity to show off our personality and design something dramatic or even quirky.  Here are 5 fun color palettes to inspire you to refresh your dining space.
1. Black and White – This classic color combination always looks great not only because o the the stark contrast between dark and light, but also because you can pair almost any color with it like the yellow flowers here.
The wallpaper by Schumacher creates a wow factor in this space and draws your eye up to the ceiling to show off the height of the room.
Photo courtesy of Lillian August furniture
2. Blue
Blue, one of my favorite colors for dining room, especially navy, pair nicely with several colors including the fuchsia shown in this dining room.  By repeating different shades of blue on both the wrap around settee and wall, you can create a more interesting color scheme.  The fuchsia hue of the chair and pillow repeat again on the rug to create a cohesive feel.
3. Green 
Even though you don't often seen green used in the dining room, I love how the green takes a back seat to the furnishings in creamy white and blue to help soften this bold shade of green.  Here in this photo artwork provides the inspiration for the color scheme of blue and green.
Photo courtesy of Hickory White furniture
Here's another example of how to incorporate green into your dining room.  In this photo the yellow green in the art is repeated again on the chairs and reinforced by the green decor on the table.
4. White/Neutral
If you love white like I do, why not paint your walls an interesting shade of white or light neutral along with white furnishings to create a fresh feel.  Then you can either leave the room white or layer in an accent color or two to change the look as the mood hits you.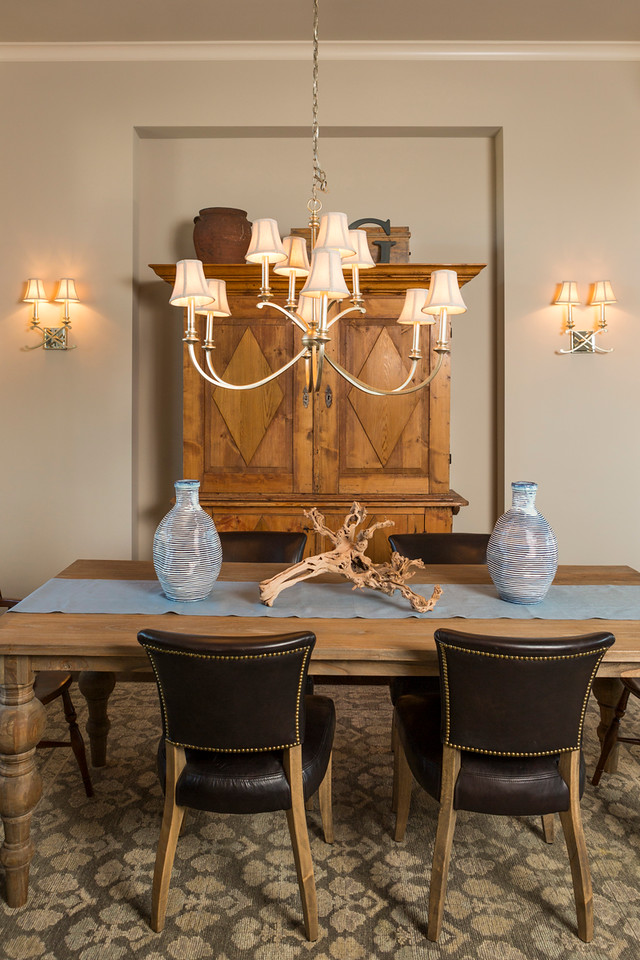 5. Color Explosion
If you can't decide on one accent color you like because you love so many why not keep a neutral wall color and introduce two or three accent colors that you love to create a space that reflects your artistic side like this photo by Spectrum Limited chairs.  To create this same look, keep the furnishings simpler also like these clear Lucite chairs to create your dramatic dining room.
Of course orange and purple can also be colorful options for dining rooms along with more neutrals colors as shown here.
For more great ideas on dining room design or other topics sign up for our weekly interior design blog here
plus become a fan of Kansas City's interior designer and former host of the Living Large design show, Karen Mills, on Facebook here!